We expand the capacity of organizations to work collectively to embed diversity, equity, and inclusion in their practice through education, training, and planning.
We define the terms of diversity, equity, and inclusion (DEI) using language from the Race Matters Institute and Racial Equity Tools Glossary: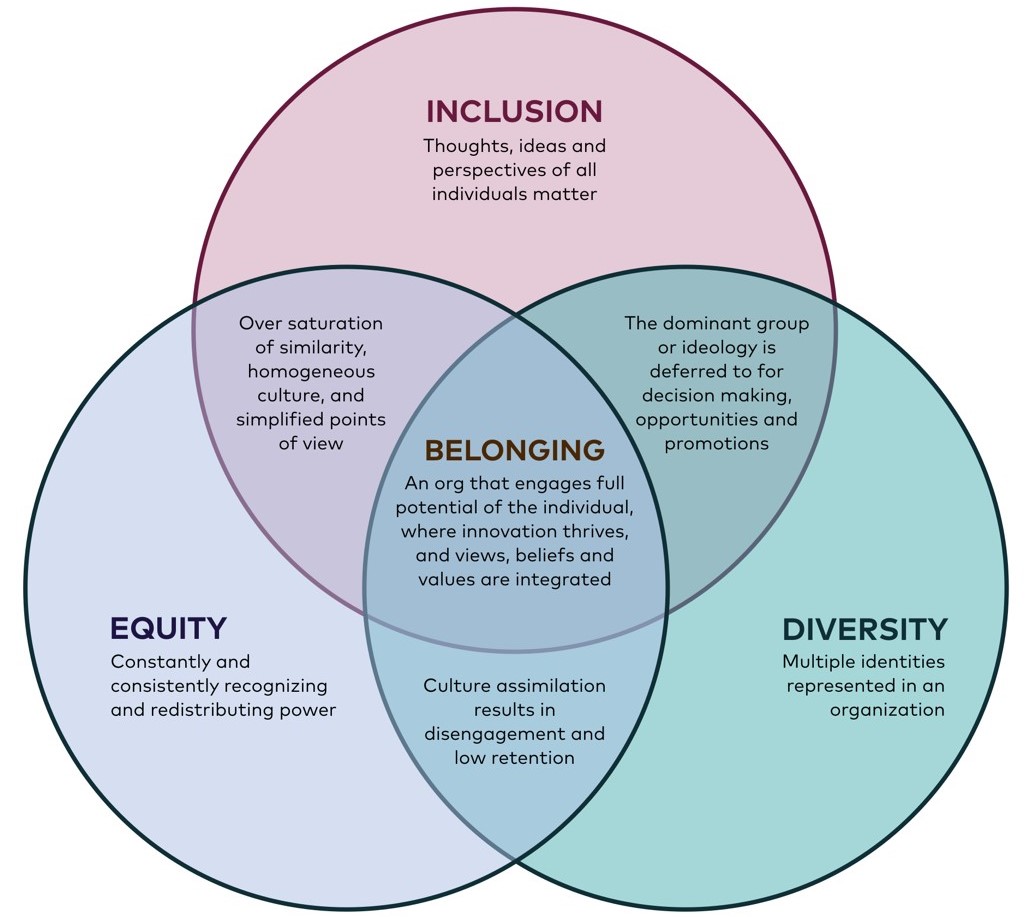 Diversity refers to the wide array of differences among people and their perspectives on the world. Diversity is an important organizational goal in its own right, but it may or may not be linked to the issue of equity. A diverse workplace is not necessarily an equitable workplace. Nor does the presence of people who are diverse necessarily produce decision-making that optimizes results for the groups their diversity reflects.

Inclusion is reflected in the ability of diverse peoples to raise their perspectives authentically, and for those voices to matter and impact decisions, where the organizational culture has been enabled for that to happen. Inclusion promises a broader view of the world and a more democratic process of decision-making. Inclusion is an important organizational process goal, but it does not on its own guarantee equity in an organization's mission-critical results.

Equity refers to achieved results where advantage and disadvantage are not distributed on the basis of race, gender, religion, sexual orientation, ethnicity, nationality, socioeconomic status, language, (dis)ability, age, religious commitment or political perspective, or other marginalized social identities. Strategies that produce equity must be targeted to address the unequal needs, conditions, and positions of people and communities that are created by institutional and structural barriers. Equity requires a set of informed policies and practices, intentionally designed to promote opportunity and rectify disparities, as well as inform people positioned to implement them effectively.
We believe that when organizations embody the values of Diversity, Equity and Inclusion, Belonging can occur.
We define Belonging based on language from Krys Burnett of 21st Century Organizational Development.
Belonging is the outcome of holding space where individuals can fully contribute, have decision-making power, and shift the culture. It is the responsibility of those in leadership and of the dominant social culture to create these conditions.
---
Services
Consult: As a professional development consulting firm committed to lifelong learning - within our own organization, our community, and those who attend the meetings we facilitate - we employ a three-step process designed to transform organizations: Learn. Network. Transfer.
Learn: Through customized education and facilitated sessions, we collaborate with your team to evaluate your organization's training needs, co-create sessions customized to meet those needs, and deliver solutions when and where it works best for your organization.
Network: Our Facilitation Methods services transform the way groups think and work together. They enable highly energized, inclusive and meaningful group collaboration that lead to successful outcomes based on a profound respect for all participants.
Transfer: The technical assistance we provide maximizes the quality of project implementation and impact by supporting administration, management, policy development, capacity building, and action planning for meaningful organizational cultural shifts.
To learn more about our DEI services, please contact Krista Rowe, Event Garde's Director of Diversity, Equity and Inclusion (DEI), at krista@eventgarde.com.
---
Facilitators
Click the image below to review bios for each one of the facilitators that help to deliver Event Garde's DEI services.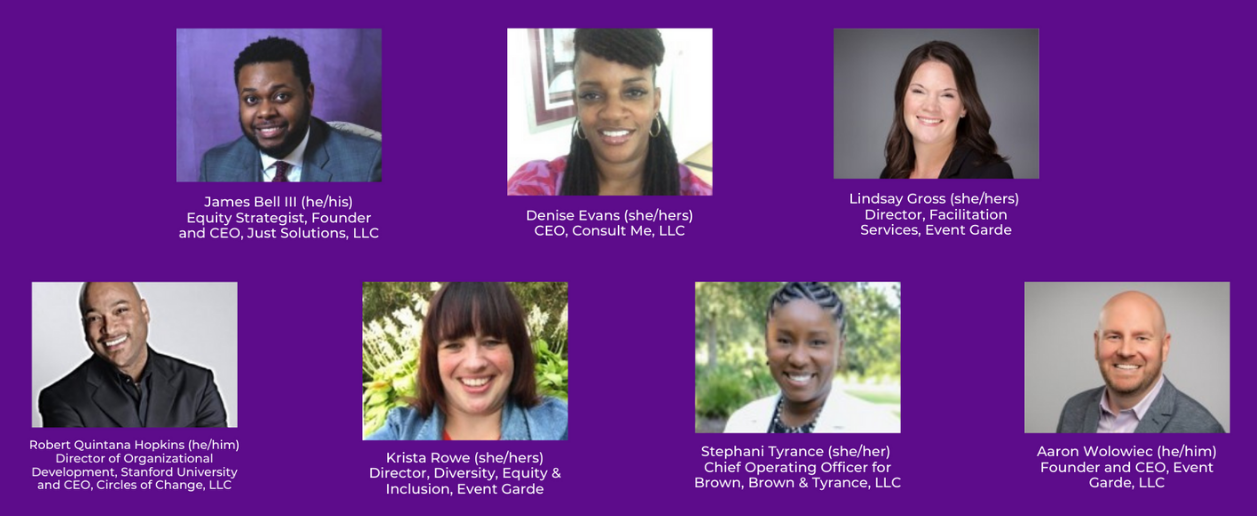 ---
Visit Event Garde's Blog to search for articles on DEI or check out posts authored by our facilitators below:
---

Visit our learning page to search for webinars and e-learning sessions on DEI that are led by our facilitators.
---

---
Visit our facilitation methods page to learn more about our facilitation services and other offerings.
---