Stop Boring Your Meeting Attendees: 10 Recommendations for a Better First Impression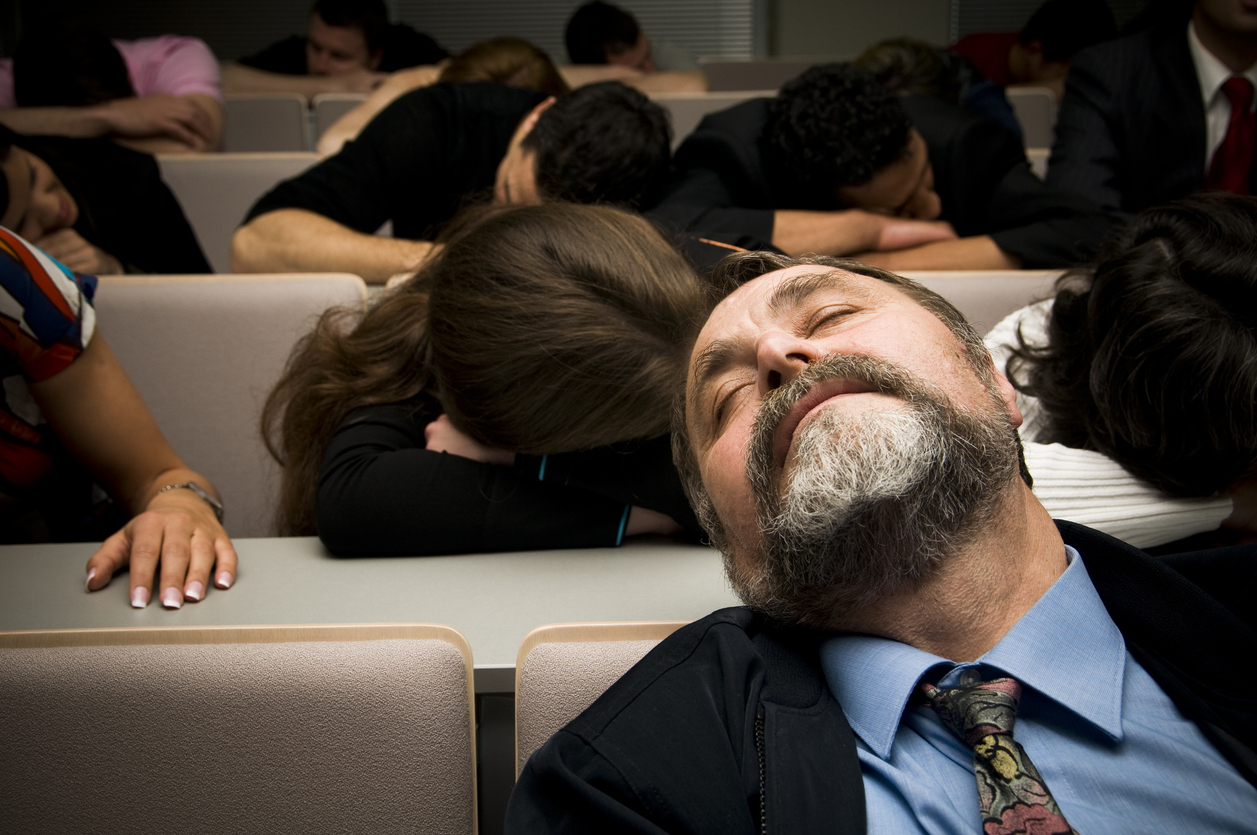 I recently attended an industry conference. I sat in the opening general session patiently awaiting the keynote speaker to take the stage. But first, a well-intentioned board member welcomed us and proceeded to kick off the event.
I don't know why I'm surprised, but what followed was a 15-minute laundry list of announcements and appreciations that very few people were interested in. It certainly set the tone for the day, but not in a good way. It felt a little like someone was reading to us from the phone book.
Of course, we all have obligations (many of which are contractual) to sponsors and exhibitors; we want to thank the planning committee members; we think it's important to orient meeting attendees to the mobile app; and the list goes on. But there must be a better way, right?
I'm fully aware that I have room to improve in this area, as well. As a busy meeting planner, it's certainly easier to cram everything into an endless list of opening announcements than it is to slow down and really consider the next best alternative. Particularly when there are event orders to write and cats (I mean speakers) to herd.
As I sit in the audience on this particular day, not as a planner but as an attendee, I realize how this opening has landed – and it's not a great first impression. So, what's the resolution? Following are 10 recommendations that you can mix and match to stop boring your meeting attendees and set a better first impression.
Just in time. Provide attendees with information from the front of the room in their moment of need vs. front-loading it all at once. Orient folks to the mobile app at the end of the general session and before the first set of breakouts. This is when they'll most likely want to review options and find meeting rooms.
Unexpected and memorable. Instead of the same opening remarks and glazed over faces, present the information in a unique way. Need to thank your sponsors? Partner with a member who's musically inclined to write and perform a short song that includes their company names and a bit about what they do.
Host a trivia game. Part of the reason the front-of-the-room lectures don't land well is that they're one directional. Personally, they remind me a bit of my college econ lecture hall. So, if you want to share information about a new product or service, turn it into a trivia game using Kahoot! or another similar platform.
Leverage your real estate. Our general sessions are often set with at least two large screens. Instead of static slides between sessions, create a scrolling slide deck with some of the most pertinent information attendees want to know (like the WiFi network and password).
Shoot a home video. Need to acknowledge award recipients? No problem! Have the nominator shoot a simple home video via their cell phone – and give them "extra points" for the most creative ones. (I recently had someone dress up like Princess Leia and folks are still talking about it.)
Shrink that signage. Did you know that signs don't have to be 22x28 in size? Shrink 'em down to tabletop trifolds. You'll get a simple décor element on each table, along with great space for reminders and other announcements. Up the ante with QR codes and suddenly they become interactive.
Go to their rooms. Need to share important information about the evening's offsite activity like what to wear and when to meet? Format and print branded door hangers for your guests' sleeping rooms and work with your hotel contacts to determine how they'll be distributed.
Intentional conference swag. Whether it's a printed bookmark outlining association publications, postcards promoting upcoming events, or magnets listing key contacts and their phone numbers, consider conference swag that not only looks great but serves a purpose and moves your attendees to action.
Show me the data! Need to recognize planning committee members, board members, and/or staff? Reading that list of names and inviting people to stand is sure to elicit eye rolls. Consider a polling platform like Mentimeter where you gamify the experience. Participants have fun, names are publicly shared, and your VIPs feel special.
Take a load off. Small lounges near registration with comfortable seating and a cool beverage are a great place for attendees who want additional information about your association. Whether staff or volunteers, ensure someone's there to connect attendees with the right people, information, and resources to fill their need.
If you or your team has an idea for how to make a better first impression during a conference general session, please share with us your tips, tricks, and recommendations using the comments below or by emailing us at info@eventgarde.com.
---
Photo Credit: iStock Photos