Tackling your Event Management Staffing Struggles with an Outside Solution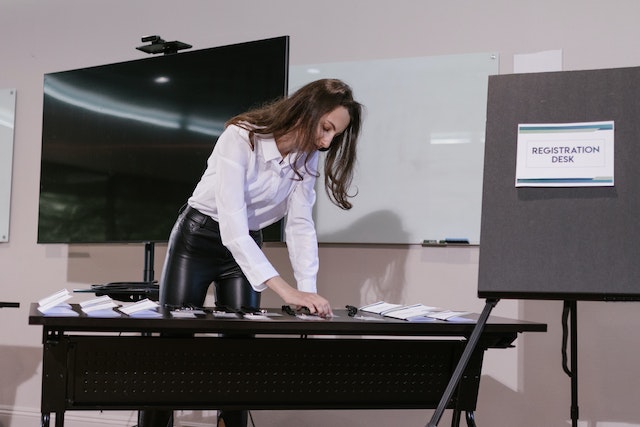 Photo Credit: Pexels.com
Today, more than ever, organizations are challenged with staffing issues. Whether the challenge lies in finding the right staff member, or budget constraints keep you from hiring a full-time employee, securing an outside contractor may be the perfect solution. Particularly as it relates to event planning and management, where the work may be more seasonal or require a specific set of skills, grabbing an expert without the commitment of employment is an attractive alternative. Here are just a few of the benefits that come along when you bring in an external partner to plan and manage your meetings and events.
Speedy Onboarding
Onboarding a new employee can be a daunting task and can take considerable time. And while there are organization-specific policies, procedures, and other nuances that will be important to your contractor(s), you will likely be able to skip some of the employee onboarding steps and get them ramped up quickly. Because they have a vast level of event experience, bringing them up to speed on your event should be minimal. If it's a first-time event, you'll have even less onboarding and will reap the benefits of having an experienced meeting pro on your team.
Expanding your Team
You may have reservations about bringing in an "outsider" and how it affects your team dynamics. You may be surprised to learn that in most cases the contracted staff seamlessly becomes an extension of your team. The staff often appreciates not taking on additional event-related tasks and welcomes the extra manpower. We have worked with repeat clients for many years where we have grown to know the staff extremely well and become a known face to members and event attendees.
Plus, if you contract with a group like Event Garde, you are likely growing your team by more than one additional member without the added cost of multiple employees. When we help clients plan events, while there may be one team member that is the forward-facing, lead event manager, the entire Event Garde team stands ready to support the event as necessary. Whether adding to the onsite event team or simply providing ideas and support in the background, you typically have a team of experts supporting you and your event. Each team member has different experiences and expertise and instead of hiring one event manager, you have a well-rounded team.
Network of Vetted Partners
Often when you team up with an event management company, or independent contractor, they bring with them a network of partners that they've already vetted and used, and they know are strong partners. From audiovisual, expo services, registration, and others, you won't be left trying to source these partners on your own. Additionally, they likely already have a request for proposal (RFP) template and process to help you source new vendors and services – saving you time and money.
Tried-and-True Tools
Partnering with a seasoned event manager also gains you access to their tried-and-true tools and resources. From budget management templates and banquet event order (BEO) processes to critical task management systems, you won't be left trying to invent these processes and procedures on your own. This can help keep your event on task and within budget.
Outside Perspective and Fresh New Ideas
While your team members may hold valuable, historical knowledge of your organization, your members, and your event, it is nice to capture an outside perspective. Someone who spends most of their days planning and managing events will be able to look at your event from a fresh lens and identify opportunities to transform and modernize the event. They will pull on their experience with other clients, usually cross-industry, while working with your key team members to preserve the necessary traditions and critical organization-specific features – freshening-up the overall look and feel.
When searching for an outside contractor, remember to ask for client references. Look for a team that has experience with different size events and events with different formats. Have them meet with key members of your staff to be sure there is good synergy and that your staff feels like they were part of the process of bringing this new person to the team. Open communication, and clear definition of roles and responsibilities will contribute to the success of the relationship with your contracted staff. At the end of the day, as the leader of the organization, you will need to decide if hiring an employee, or contracting the work, is a better fit for your organization but don't be opposed to the idea of exploring alternative staffing when it comes to your events.
For more information on how Event Garde partners with our clients with event design and management services, contact Kara Nacarato at kara@eventgarde.com.