(Re) Committing to Our Values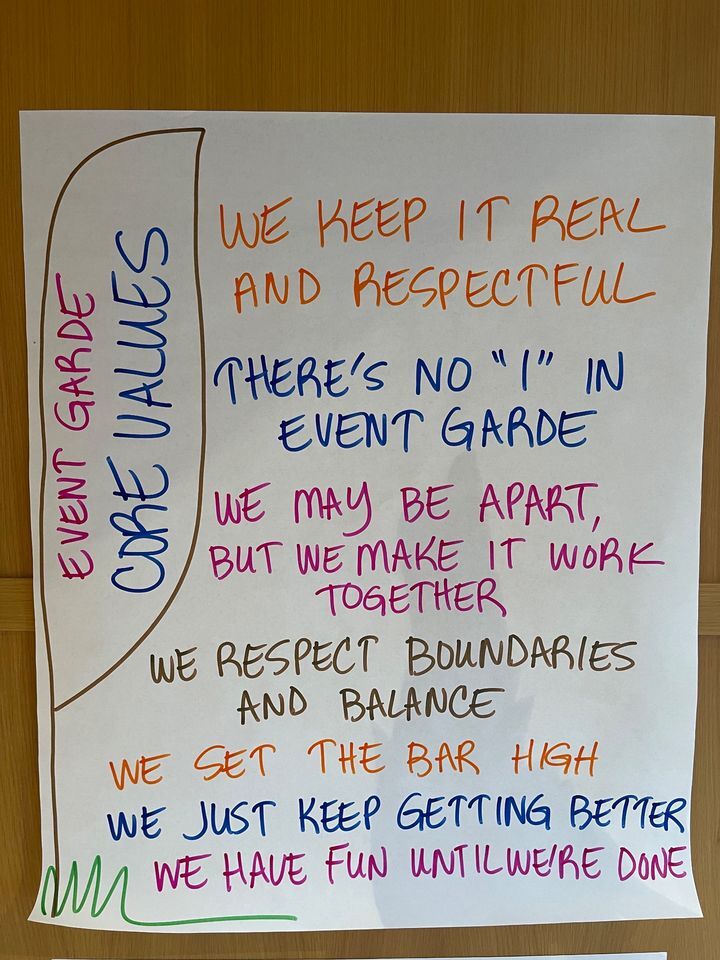 The Event Garde team is committed to holding ourselves accountable to our core values. As part of that commitment, we spent time at the 2023 Event Garde Planning Retreat revisiting the values we came to consensus around at the 2018 Retreat. These values serve as the foundation for how we work with one another, our partners, and our clients and it's important that they continue to be an accurate reflection of who we aim to be. Do they reflect our current knowledge, skills, and abilities? What would new team members add or edit? Are they still broad enough for new growth but specific enough that we can be held accountable to them?
One of the ways we've grown is by being explicit about an anti-oppressive approach to our work – one that aims to make diversity, equity, inclusion, and belonging (DEIB) a part of everything we do. In a corporate climate that often uses DEIB language to avoid confronting oppression and racism head on, being explicit is particularly important. We assumed that we would need to add a value about DEIB. What we discovered is that adding a value felt like it was a supplement, as opposed to embedded in all we do.
We decided to keep our existing values…
We keep it real and respectful
There's no "I" in Event Garde
We may be apart, but we make it work together
We respect boundaries and balance
We set the bar high
We just keep getting better
We have fun until we're done
…but revise the accompanying explanatory language, when necessary, to make sure it reflects our current understanding of DEIB practice.
In addition, we will:
Add a framing paragraph above the values that explicitly names anti-oppression.
Do a deep dive into each value at our monthly directors' meetings to evaluate how that value is showing up and what we could do to improve upon it.
Highlight that value on our social media platforms for the month.
We will continue to reflect on how we are, or are not, living our values and will roll out the new language soon. In the meantime, we would love to hear about strategies you use to hold your teams accountable to their values.