Findings of 2022 Non-Profit Survey on Value Proposition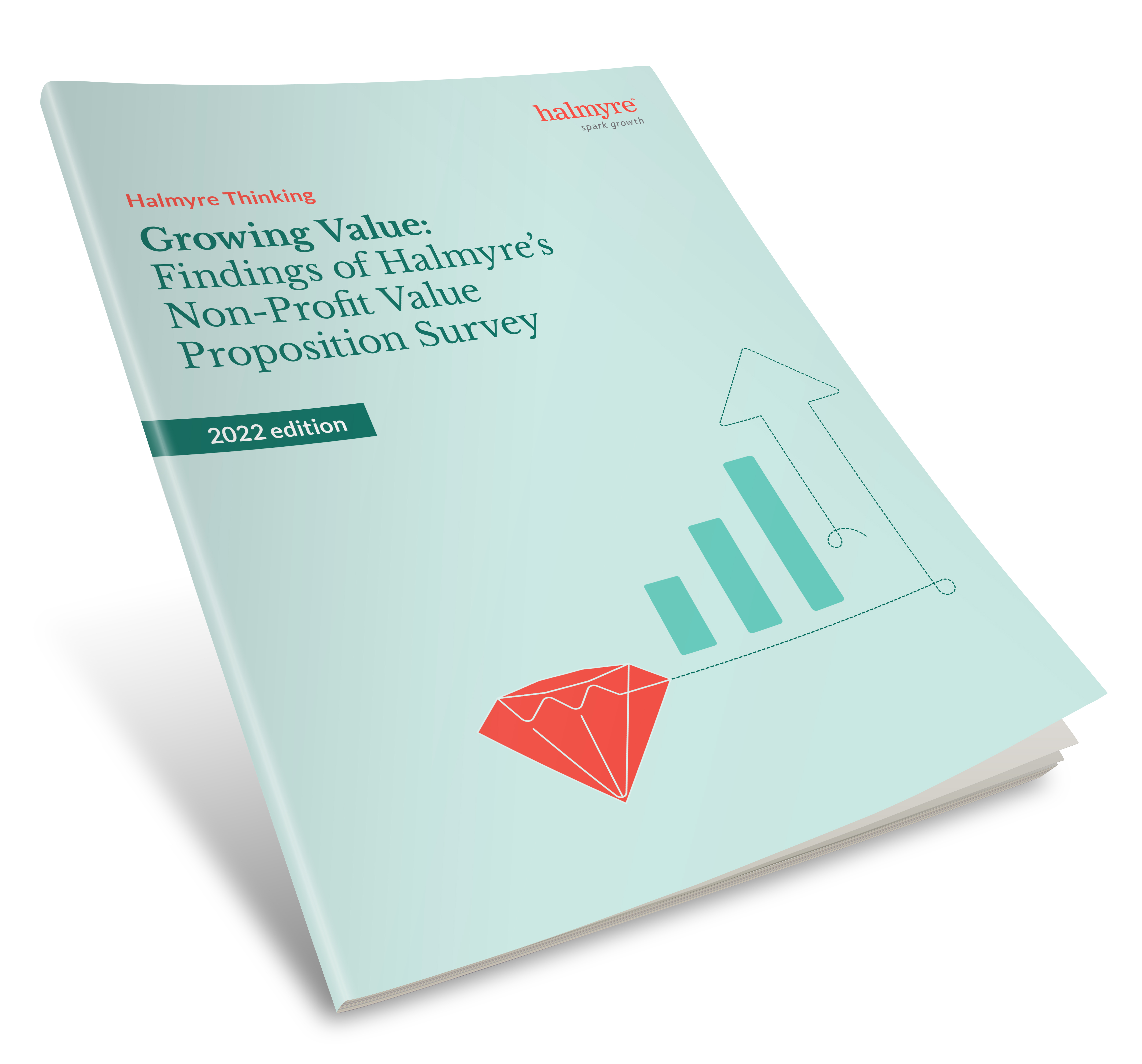 Halmyre has released their latest report: Growing Value: Findings of Halmyre's Non-Profit Value Proposition Survey. This is based on the 2022 survey of Non-Profit Executives about value proposition, member engagement, pricing strategy, and data intelligence. Here are two highlights from the learning.
What Is Keeping Non-Profit Executives Up at Night
As we round the corner from the pandemic years, many non-profits are getting stronger. But there is also worry about the future of their organizations. The top 5 concerns reported are:
1. Generating non-dues revenue
2. Developing volunteer leadership and planning for succession
3. Changing attitudes toward association memberships and services
4. Undertaking effective strategic planning in uncertain times
5. Shifting demographics
3 Wins Driven by a Value Proposition
Having a relevant, approved and aligned value proposition drives sustainable growth. The most successful leaders report these successes:
50% increase in loyalty/net promoter score.
49% more reported successful revenue generation.
69% more strengthened their value to their members.
Those non-profit leaders that reported having an aligned and approved value proposition, consistently reported growth because they were able to increase engagement, revenue, and resilience. Interestingly, many leaders (46%) reported that their organizations do not have a unique and relevant value proposition and are struggling.
For more survey results and actionable insights and tips on value proposition, pricing strategy and data intelligence read Growing Value: Findings of Halmyre's Non-Profit Value Proposition Survey.
Click here to get your complimentary copy of the Report.

About Halmyre
Founded in 2014, Halmyre is a team of multidisciplinary marketing strategy consultants who deliver intelligent marketing support to our clients.
As your marketing strategy partners, we will use our Halmyre Marketing Ecosystem™ to cover all aspects of your organization affecting your ability to grow.
Value proposition – products, pricing, audience insights
Service design – online and in-person delivery, and engagement
Performance management – data and data-systems
Creative – how you look and sound
Content and promotions – what you're saying and how well it's working
To learn more, visit halmyre.com