Top 5 Marketing Trends of 2021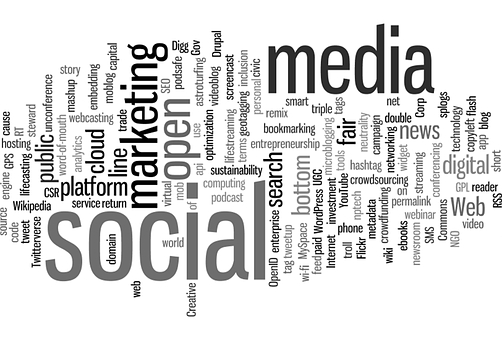 Photo Credit: pixabay.com
This guest blog post is by Rob McCarty, CEO & Partner of The Image Shoppe.
It feels a bit overwhelming to be predicting what the new year may hold after powering through such an insane year. Nevertheless, there are a handful of trends we have been watching that give us a closer look into what's to come in the world of marketing and communications in the coming year. Here are our top five:
1. DIGITAL CONTINUES TO GROW
The digital world has been experiencing a steady growth over the past decade, but this year we have witnessed those numbers skyrocketing. Looking back over the last few months and into the next few years, a shift in focus towards digital will be a critical move for all businesses. With the temporary shutdowns we've experienced at brick-and-mortar retailers, the only way to interact with customers was via social media and online advertising channels. Those who were already on board were brainstorming ways to optimize their digital spends, and those who had little to no presence were learning how to transition into a digital world. This trend won't decline as we move into the new year. We've seen how quickly technology can change, so it's best to keep your eyes peeled as you continue to adapt.
2. DATA WILL REIGN KING
Data will finally have its day. Businesses big and small have had access to Google Analytics, social media analytics and many other free data platforms for years, but many organizations have not spent the necessary time understanding what the data actually means. Given the giant leap digital has taken this year, 2021 will be the year for data to shine as companies become more interested in following their data and refining their strategy to be in line with it. Our Digital Account Manager/Strategist Zach Guy dove into a few trends that seem to be gaining the lead at the tail end of 2020.
Connected TV and Targeted Video
As users move toward streaming services, connected TV will begin to enter the marketing mix for more businesses. Hulu has introduced a self-serve ad platform and YouTube has launched a similar self-serve model for brands to connect with influencers. This graph shows the last five years of interest in "streaming" as a keyword per Google Trends. Its sharp growth period began in Q2, 2019.

Importance of Digital Marketing
The graph below shows the past five years of interest in the topic "digital marketing" per Google Trends. It has doubled in interest over the past two years and proved its importance in 2020. Digital channels for retailers, for example, also had a huge jump these past few months and importance has increased greatly as a result of COVID-19 social distancing guidelines (census.gov; graph below)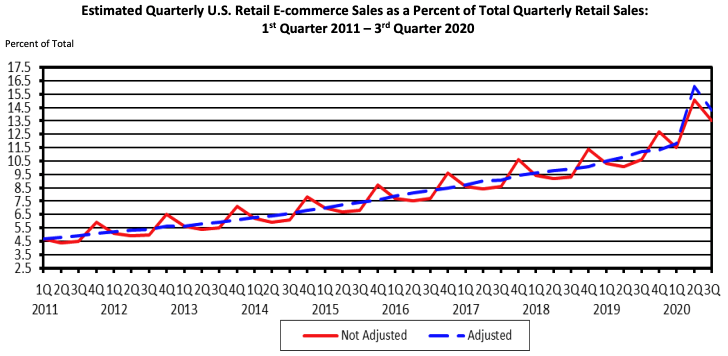 Rethink Your SEO and Keyword Strategies
This next graph shows past five years of interest in "hey Siri" via Google Trends. Voice search is a growing trend that produces longer-tail keywords and unique search term combinations. Prevalence of search on mobile devices increases need for location-specific SEO and ad optimization.
3. WEBSITES WILL BE THE KEY TO SUCCESS
The web browser experience—both on phone and desktop—is alive and well and more robust than ever before. We've seen businesses that invest too little in their websites and some that have no site at all, relying solely on social media to convey all their messaging. A website is the central hub of all owned media and the number one tool for allowing customers to discover more about who you are and what you offer. Many businesses let their web presence go as they pivoted to social media, but there is a need for high-quality, modernized sites to support all online activities. Websites need consistent updates to maintain accuracy and relevant rankings in search results. With this year bringing a surge of online visits, businesses must figure out what piece of the funnel their website serves for their audience and optimize for that purpose.
4. IT'S MORE ABOUT THE BRAND AND LESS ABOUT THE ADVERTISING
Your brand is your image in the eyes of the consumer. It needs to shine bright amongst competitors and stay consistent across all communication channels. In the last decade, we've seen companies put less effort into their brand and more effort into their advertising. Advertising takes precedence because brand work can be costly, and it can run in stark contrast to that data we talked about earlier. Brand work is much more difficult to measure in numbers. Your business can run an advertising campaign and immediately start tracking its impact, but you can't really do that with brand work. What some forget, though, is that brand is what makes those advertising efforts work. Many times, a message may fall flat when there is not a strong brand to back it up.
5. FOCUS ON CUSTOMER EXPERIENCE
More than ever, this year has taught us that CX is the key to success. With so much competition out there, one needs to separate themselves from the pack—and what better way to do that than by giving your audience the ultimate customer experience. To say the least, 2021 will be a strange year filled with more uncertainty and change. Brands should jump at the chance to be a constant comfort in their customers' lives and give them unforgettable experiences. It's time to start planning what you'll do and how you'll do it. Hopefully, you'll carry that strategy onto your website as well!
This year has placed many obstacles in front of businesses to weave their way through, but we are surviving, and we are adjusting. This forecast on the future of marketing may seem new, but really it's just showing us that now is the time to focus on what has always been important—follow the data, build your brand and cater to your audience.