Restarting Business in a COVID-19 World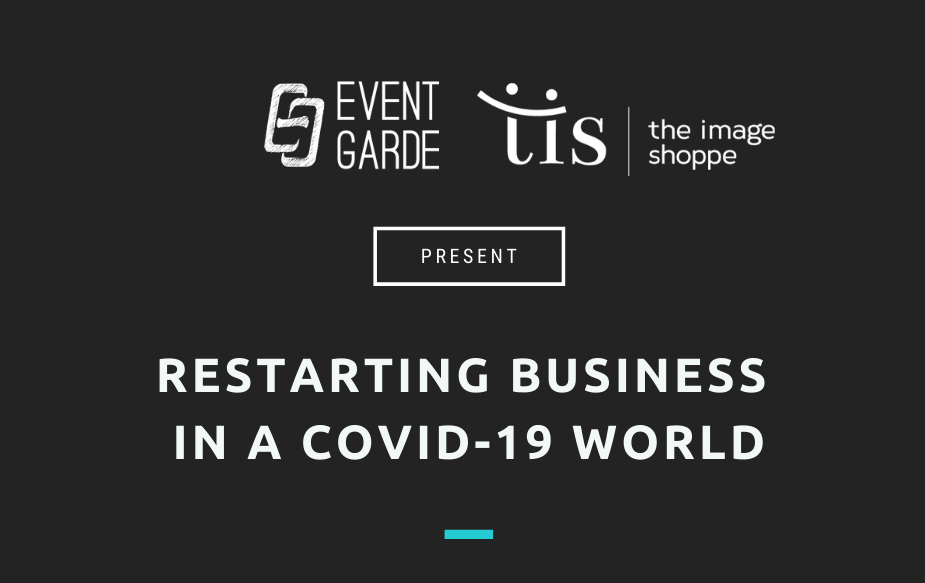 Our webinar series Branding & Marketing Best Practices Amidst COVID-19 with The Image Shoppe and Event Garde returned for a pop-up episode last week to discuss restarting business as economies across the country begin to reopen. While the news of getting "back to reality" may be exciting for some, it may also cause simultaneous feelings of anxiety and overwhelm for consumers and business-owners alike.
Your company may already be in the beginning stages of preparing to safely return to work; however, we all know that the workplace will not look like it once did before. Whether you're a business leader or an employee, you may be unsure how to juggle all the factors you must take into consideration to create a safe working environment for all.
In this episode, our panelists Aaron Wolowiec, CEO of Event Garde and Rob McCarty, CEO of The image Shoppe, dove into topics including:
How to create a relaunch plan
Preparing for health and safety precautions
How to modify your business model or offerings for success
And more!
Catch the replay here or read on to get the highlights of this episode.
Move Back to Basics
Before we dive into any of this content, we want to remind you that business likely will not go back to our old "normal" for quite some time—if at all. We of course still have to prepare for the level of re-opening we are granted, but we advise you set different expectations (or none at all) of what business will look like you once you do begin to reopen.
Revisit your target audience
Look back to your target audience personas or profiles (if you have them)—and even if you don't, think about the defined group(s) of folks your brand wants to attract. More specifically, consider how COVID-19 may have affected them...
Could they have contracted the virus, or been in contact with someone who was?
Are they afraid of the virus, or of reopening?
Are they jobless or furloughed?
Could they be restless and ready to get back out in the world?
Are they nervous to travel, dine out or attend events?
It's also important to acknowledge and accept that your target audience(s) may be different today than they were before the COVID-19 pandemic—maybe they've expanded, narrowed, or changed completely. Whatever the case may be, recognize any changes that may have occurred and retool your brand's voice and tone as needed.
How can you best serve your target audience?
Now that you've considered ways that COVID-19 may have affected your specified target audience, take those considerations to heart and configure a plan to help them as best you can with your service or product offerings. One way you can most effectively do this is to go directly to the source. Consider conducting a survey, formal or informal focus group with a pool of your customers for their feedback and insight on their current feelings about reopening and what they'd like to see from your brand moving forward.
Modernize Your Business
Once you're feeling comfortable with the basics, you can move into more complexities of reopening your business, including ways to modernize to ensure you're able to uphold health and safety standards as well as streamline your processes for an easy user experience.
Consider what services, processes & procedures you'd like to implement
Are there new service offerings, processes or procedures that you've always liked to implement but never found the right time? Or perhaps some that would allow you to stay compliant with social distancing or your audience's needs? Here are just a few ideas that you may be able to implement depending on the nature of your business:
E-commerce
Curbside pickup or delivery
Cashless/Cardless payment, e.g. Apple Pay
Customer Relationship Management (CRM) tools, loyalty programming or customer feedback/review platforms to monitor feedback
Creating a safe and healthy environment for all
Before reopening, you'll want to spend a good amount figuring out how to reconfigure your store layout to accommodate social distancing, as well as aggressive cleaning and sanitation practices. Think back again to your target audience—based on what you know about them, or from asking them directly, understand the level of precaution and sanitation procedures you must obtain to make them feel comfortable. This also may vary depending on your industry and your local community's specific requirements and recommendations, which we recommend keeping up to date with often.
Be cognizant
While implementing your new processes, procedures and public responses, be extremely cognizant of how those things may come across to your audience, event attendees or the general public. Keep your mission, vision and core values in mind at all times, and don't lose sight of diversity, equity and inclusion policies.
Offer choices
It's also critical to offer your consumers choices during this time—especially with events. If you are able and do choose to host in-person events, work closely with your Chamber of Commerce and/or CVB on established standards for health and safety at in-person events, and plan to host a virtual version of that event for those who may not feel comfortable attending in-person, or in case of cancellation. For more specifics on training around planning and hosting safe meetings, visit MSAE.org.
Don't over-commit!
Businesses will have to commit to new legal requirements set by their state and the nation, but don't overwhelm yourself, your staff and your customers by taking on too many elective practices at once. It's better to master a few new processes, procedures or pieces of technology at a time than try bringing on too many at once and not get a firm grasp of how to use them. Opening the door for customer feedback will help keep you and your team in the know of areas you're excelling and areas for improvement.
Digital Marketing
Once your relaunch plan is finalized, it will be critical to take it to market to ensure your audience knows what your brand is doing to uphold health and safety standards.
How to proceed on social media:
Be transparent: Explain your relaunch plan and discuss implementation phases accordingly. Don't overwhelm your audience with too much info at once; only communicate pertinent info at a time.
Be demonstrative: Use images, graphics or, better yet, video tutorials to show how your new systems, processes or procedures work, such as curbside pickup or online ordering/e-commerce platforms.
Be brand-focused: Think back to basics again—does your brand voice need tweaking based on the current climate, or based on your potentially altered target audience? Make sure your content moving forward emulates this new voice and tone for most effective communication.
Be smart: Choose your words and actions wisely! Again, always keep your mission, vision and core values as well as diversity, inclusion and equity at the forefront.
What to include on your website:
Show major changes front and center on your homepage—including any and all shifts to your consumer-facing business
Relevant images, graphics or videos or photos such as process tutorials
Permanent COVID-19 response page/section that you can easily update as we learn more about the progression of COVID-19
Digital Advertising
Beyond organic tactics such as social media and regular website updates, there are plenty of opportunities for industries to promote their business or changes to their business through digital advertising, such as display ads and retargeting ads. Here are some of our top tips for digital advertising:
Target consumers with awareness messages on Google, search and social ad spends, including your new processes/procedures like takeout, curbside pickup or virtual appointments, as well as new service or product offers
Utilize highly searched terms and phrases your target audience may be searching for, such as "wine delivery" or "wine delivery near me"
Have a topic you'd like to hear from us?
If you have questions about another topic related to branding and marketing amidst/post-COVID-19, or would like us to expand on an already-covered topic, our teams are happy to help! Contact natalie@theimageshoppe.com and we'll make it happen.