Pivoting Your SEO & SEM Strategy During the COVID-19 Crisis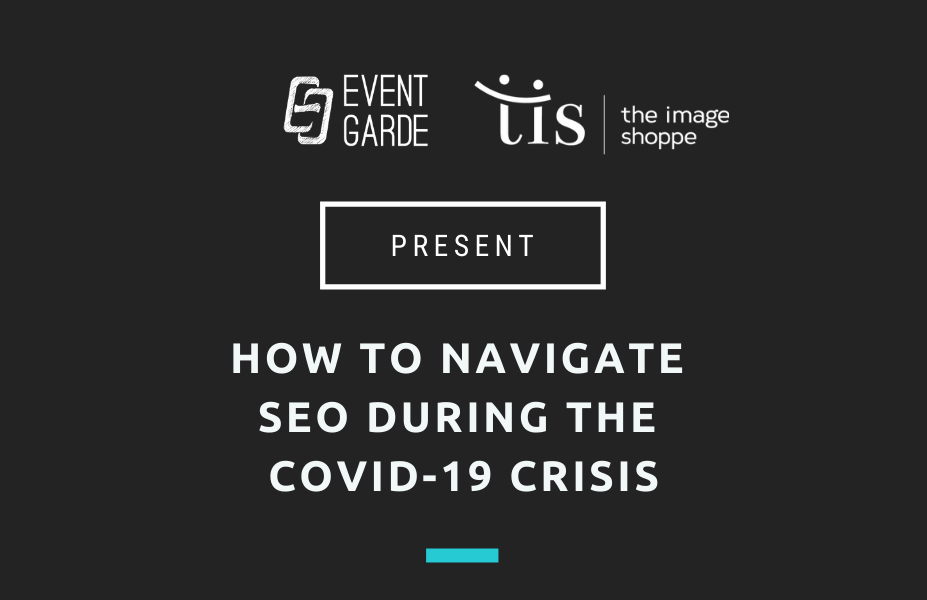 This guest blog post is from Natalie Topalian, Copywriter for The Image Shoppe.
Our webinar series, Branding & Marketing Best Practices Amidst COVID-19, continued last week on Wednesday, April 8 with a discussion from Team TIS CEO Rob McCarty and Digital Account Manager Zach Guy and Event Garde CEO Aaron Wolowiec on search engine optimization (SEO) and search engine marketing (SEM) in the time of COVID-19. We covered a variety of subtopics under this umbrella topic, including:
Defining basic terminology
Important updates to make on your website and business listings
How to use search queries in your favor
Helpful SEO/SEM resources
Catch the replay via YouTube here, or read on to get the highlights of this episode.
Defining Basic SEO Terminology
Before we get into the details, let's define some important terminology related to SEO and SEM, with a little help from Moz (one of our top-recommended resources for all things SEO and SEM!)
Search Engine Optimization (SEO): The practice of increasing the quantity and quality of traffic to your website through organic search engine results.
Search Engine Marketing (SEM): The practice of increasing the quantity and quality of traffic to your website through paid search engine results.
Search Engine Results Page (SERP): The pages displayed by search engines, like Google or Bing, in response to a query by a user.
Meta Title Tags: An HTML element that specifies the title of a web page. Title tags are displayed on search engine results pages (SERPs) as the clickable headline for a given result, and are important for usability, SEO and social sharing.
Meta Descriptions: An HTML attribute that provides a brief summary of a web page. Search engines such as Google often display the meta description in search results, which can influence click-through rates.
Meta Keywords: Also known as "search queries," the words and phrases that searchers enter into search engines.
On-Page Content/SEO: Optimizing both the content and HTML source code of pages on a website.
Wayfinding SEO: Optimizing your website to allow for easy navigation, understanding and communications with potential visitors using search engines.
Updating and Modifying Your Website
VERY IMPORTANT! The number-one takeaway from this webinar: Do not take down your website!
Even if you're temporarily closed, do not completely take down your website—simply reduce its functionality. Take down/close pages that are no longer relevant during this time, such as History, new product releases, certain services, etc.
Dedicate a web page to COVID-19
As we discussed last week, rather than flooding email inboxes, dedicate a page on your website to COVID-19-related updates regarding your business, or even your area.
When creating this web page, modify its URL (or the "slug") to this format: [yourwebsitename].com/covid-19-business-updates
Knock out some housekeeping
This is an opportune time to sift through your website (including the "closed" pages) to complete a content audit. Things to look for in a web audit:
Is your copy up to date?
Are all links still functional?
Do images, graphics or videos need updating?
Are your meta title tags and descriptions accurate?
Updating Your Business Listings
Make updates to Google My Business, Yelp, Trip Advisor and social media platforms
Keeping your business listings up to date is always a critical component to SEO and better business practices—but especially now during the COVID-19 crisis. Many of these platforms are working around the clock and have implemented new functionality specifically for COVID-19 communications.
Click here for COVID-19 update information, including temporary closing/hours, addresses and more.
Restauranteurs: Click here to learn more about Google Takeout and how this can help your business.
Yelp has added new icons and business highlights specifically for COVID-19 communications.
Click here for info on relief for restaurants and bars affected by Coronavirus.
Click here for Yelp's COVID-19 resource hub.
Trip Advisor has added a Temporarily Closed feature for businesses affected by COVID-19.
Click here for travel information amidst COVID-19.
Social Media
How to Use Search Queries in Your Favor
Search is a question/answer machine
Use search engines like Google and Bing to find out what commonly searched terms and phrases are circulating surrounding your business or relevant topics within your industry. Try to incorporate these phrases on your website (specifically your COVID-19 communications page) where applicable.
Commonly searched questions amidst COVID-19
Common questions that may apply to your business include:
What are your hours?
Can I come into your store?
Do you offer curbside pickup or delivery?
What can I do to help?
Stick with the tone of the times
As we discussed last week, striking a balance of optimism yet realism in your tone is especially important right now. Offer silver linings when you can, but don't pretend like everything is sunshine and rainbows right now, either.
Modify your messaging for relevant events
Upcoming holidays and events should still be addressed in some way, if relevant to your business.
SEM during COVID-19
While this discussion primarily focused on SEO, there are still big opportunities with SEM during this time. If there's room in your marketing budget, delegate some dollars to your COVID-19 web page or other communications so your audience is more likely to utilize you as a resource of information over your competitors.
Reliable SEO & SEM Resources
Many of these resources were mentioned in the chat feature of the webinar, which you can view below, or visit these links:
Moz: SEO tools and best practices
Neil Patel: SEO and digital marketing best practices
SEM Rush: SEO/SEM management tool
Sign up for Updates on Future Episodes!
This webinar series will continue to operate every Wednesday via Zoom at 1 pm. Visit our Events page to stay up to date on future episodes, and subscribe to our email list for additional updates.
Have a specific topic in mind you'd like us to cover, or a subject matter expert you'd like to see on the show? We'd love to hear your suggestions! Send your ideas to The Image Shoppe's copywriter Natalie Topalian, natalie@theimageshoppe.com.