Partner Spotlight: Naylor Association Solutions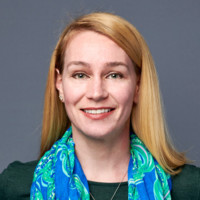 Event Garde partners with experts we trust to deliver the best. We draw upon the expertise of respected industry leaders to ensure your project gets the talent and attention it deserves. You can learn about more about all of Event Garde's partners here.
Naylor Association Solutions provides Member Engagement & Revenue Services and Content Services & Support.
LEARN: Share with us something interesting you've learned in the last year.
That working full-time from home can be productive and fulfilling! Before the pandemic I would work from home one day a week to get relief from my commute. I tended to save my "easy" tasks for that day and was admittedly easily distracted by my pets, the laundry that needed folding, and so on. Now, with a full office setup and almost a year of working and collaborating with my colleagues from our guest room, I've discovered it's possible to work hard from home and enjoy it. I love that I can work without distraction but also get on a video call and see my team during meetings. And at the end of the day, I log off, head downstairs and get to immediately enjoy the evening without battling rush hour traffic!
NETWORK: What is your go-to networking tip or trick?
Stalking LinkedIn profiles to find commonalities or shared points of interest. I regularly interview association professionals for Naylor's "From the Corner Office" column in Association Adviser, and for The Association Adviser Podcast. I love discovering that someone went to my alma mater, once worked with the mascots for an NFL team, or belongs to a competitive choral group, then casually bringing it up to start an interesting conversation. Those are all real examples!
TRANSFER: What is your best advice for helping yourself or others apply new knowledge to the workplace?
Use new knowledge right away. Find a side project or create one to test out your new skill or apply your new idea. It might start really small, but with practice it will grow, and you'll become more confident.
RESOURCE: Please share with us a resource and why you can't live without it.
There are so many amazing resources that help me stay on top of what's important to the association community and why: Sidecar's webinars and newsletters, Deirdre Reid's weekly bulletin, Tony Rossell's Membership Marketing Blog, Kiki L'Italien's Association Chat, Association Forum's Welcoming environment resources, the ASAE Collaborate community boards, and of course, the Event Garde blog! I'm thankful that association professionals are so willing to share their expertise with others.
JUST FOR FUN: What are you most looking forward to this summer?
Lots of pool and splash pad time with my two children. They are both water babies, and I love watching them play and splashing with them.
-----
To learn more about Naylor Association Solutions visit their website www.naylor.com. You can also connect with Kelly Clark, Naylor's Manager for Online Marketing directly via LinkedIn.