Millennial learners: Creating connection in an era of disconnect
Just when you thought you've considered generational differences from every possible angle, another new consideration crops up: How are you creating connection and engagement for millennial learners? A simple Google search would suggest that millennials are lazy, attention deficit and entitled – and that's on a good day.
But upon further inspection, as we uncover the nuances of this often-misunderstood generation, we can quickly poke holes in these myths. And, as it turns out, the very same characteristics that make this generation of learners unique are the characteristics, when effectively leveraged, which can help speakers create an active partnership with millennials – an important first step in designing engaging learning.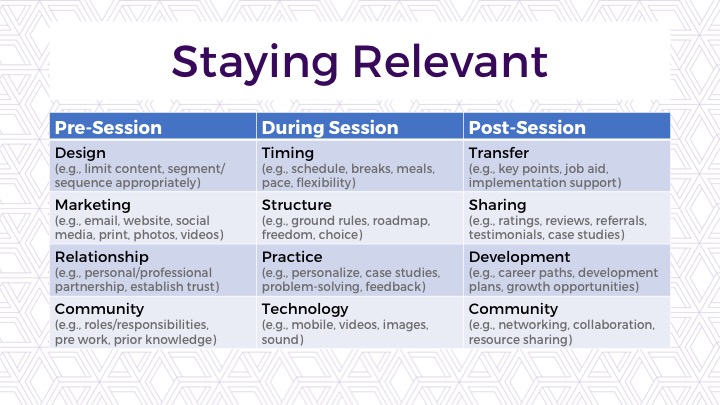 Following is a selection of three millennial myths. Accompanying each is a "reality check" outlining an alternative interpretation of this commonly held misconception, as well as a variety of strategies for leveraging these findings during face-to-face and digital learning experiences. (See the "Staying Relevant" graphic for a summary of these strategies along the three-part continuum: pre-session, during session and post-session.)
Myth 1: Millennials are lazy and not driven.
In actuality, millennials strive to achieve work-life balance and:
No longer value the traditional workplace rules.
Don't want to be just another cog in the wheel.
Value intangible work benefits.
Are used to being flexible and doing things on the go.
Are autonomous.
Want transparency.
Want to learn from experience.
As a result, leverage one or more of the following recommendations when designing learning:
Consider shorter/flexible training days.
Establish collaborative ground rules.
Identify a clear roadmap for the day (and stick to it).
Honor start, stop, break and meal times.
Allow for participant freedom/choice.
Provide hands-on opportunities/experiences.
Accommodate individual/family needs.
Myth 2: Thanks to their obsession with technology, millennials have an attention span shorter than a goldfish.
The truth is millennials are incredibly discerning as a result of today's communication-rich environment.
For starters, the volume of messaging has increased exponentially in the last 40 years.
Millennials are forced to make judgment calls based upon headlines, photos and other key indicators.
This has caused their time per message to significantly decrease.
However, the total volume of consumed messaging over time has remained fairly constant.
Rather, millennials have adapted to become more discerning in decisions about how to spend their time.
As a result, leverage one or more of the following recommendations when designing learning:
Create a true partnership/relationship with learners to establish trust.
Help learners personalize and process new information.
Limit content only to what learners need to know vs. everything there is to know.
Clearly organize key points.
Remain vigilant when it comes to course pacing.
Vary topics and activities to maintain interest.
Illuminate key takeaways faster (and repeat them).
Myth 3: Millennials have seemingly immediate expectations for things like salary, promotions and workplace culture.
In reality, millennials are ambitious and simply want to:
Participate and contribute in meaningful ways.
Enjoy collaborative opportunities that allow them to stretch their creative wings.
Explore entrepreneurial tendencies to pursue their full potential.
Share new ideas and actively participate.
Know they are adding value.
Take their growth and careers into their own hands.
Have a support system vs. participation trophies.
As a result, leverage one or more of the following recommendations when designing learning:
Communicate clear roles, responsibilities and expectations of learners.
Create opportunities for learners to collaborate before, during and after sessions.
Provide adequate feedback to learner ideas.
Reward creativity/value both publically and privately.
Help learners identify possible career paths/options and establish personal development plans.
Develop meaningful recognition experiences.
What myths about millennials would you add to this list? In what ways have you leveraged these characteristics as opportunities to more effectively connect with and engage millennial learners?
By the way, if these recommendations for designing engaging learning sound equally beneficial for other generations of learners – you're right! These ideas aren't restricted only to millennials. Consider how you might better partner with your speakers in 2018 to more intentionally infuse these learning strategies into your upcoming annual conference and signature events.