Hybrid Meeting Strategy, Pricing & Best Practices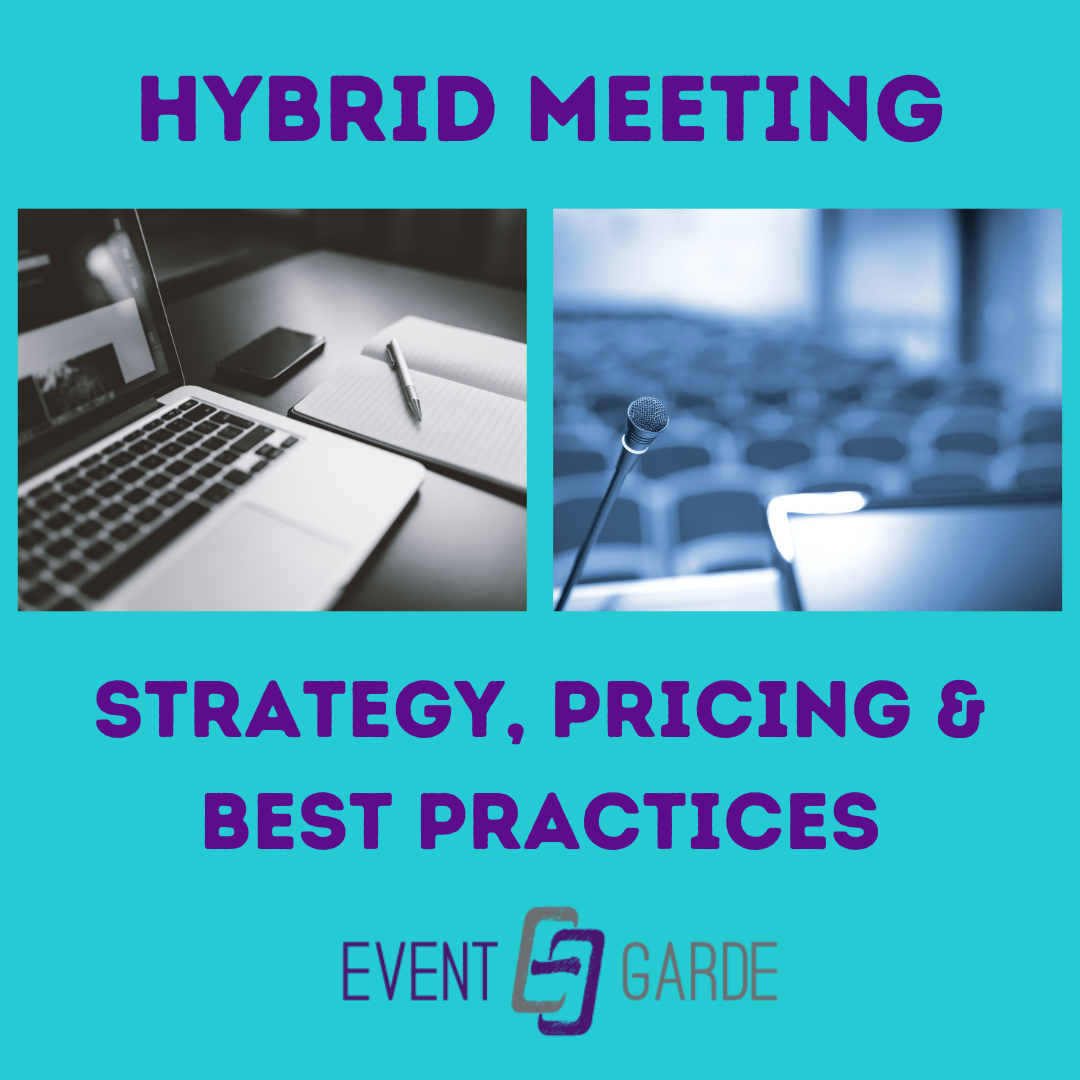 Given the ongoing global pandemic and its effects on budgets, travel, comfort and safety, the future of in-person meetings remains uncertain. But as some organizations plan for what lies ahead in 2021 and beyond, hybrid meetings seem to be gaining popularity.
But planner beware. When hybrid meetings first hit the scene many years ago, they generally comprised the usual in-person experience with livestreamed general sessions to a remote audience. Today's learners expect something much more sophisticated, intentionally integrating the in-person and remote audiences while also developing unique engagement opportunities for each group.
As you consider if hybrid is the right choice for you, your event and your organization, I've curated:
Key strategy questions to discuss with your planning team.
A resource to guide your pricing strategy.
Hybrid meeting best practices.
New guidance for the in-person portions of your hybrid meeting.
Strategy Questions
Planning your first hybrid meeting can be a big undertaking. Following are 15 key strategy considerations (in no particular order) to discuss with your planning team. Answers to these questions should help determine your readiness to plan and implement a successful hybrid meeting:
Leadership — What stakeholders will comprise the leadership team to guide event strategy?
Format – Will you plan a virtual, in-person or hybrid event? And why?
Target audience – Who is the new target audience (specificity matters) of your event?
Value proposition – What is the clear/unique benefit (vs. features) of your program?
Technology – How comfortable are you and your members with virtual event tech?
Member data – To what extent will member data inform event-related decisions?
Goals – How will you adjust expectations around event goals (e.g., attendance)?
Profitability – How will you ensure this is a profitable event (because it should be)?
Commitments – How will you successfully pivot sponsors/exhibitors?
Agenda – How will the agenda adapt to meet the challenges of a remote audience?
Content – How will you monetize and/or re-purpose content following the event?
Milestone dates – How will event milestones change given registrant behavior?
Promotion – How will marketing/communications change to cut through the noise?
DEI – How will you ensure this event honors your diversity, equity and inclusion commitment?
Challenge – What is your biggest challenge as you pivot to a hybrid meeting?
Pricing Strategy
Over the last few months, we've noticed lots of organizations giving away virtual education for free. While this is noble (and certainly a great member benefit), it may mean you'll have greater difficulty charging for future programs, products and services, including hybrid meetings.
Halmyre offers a great "Pricing Strategies During Economic Downturns" whitepaper to help guide your thinking as you explore a pricing strategy that's right for your hybrid meeting. Just like anything else, there's no single approach that will meet everyone's needs. As you review projected revenue and expenses, don't forget these key questions that may affect your chosen pricing approach:
Are you concerned people may not register for the in-person experience?
Do you have an F&B minimum and/or housing attrition to worry about?
Would you like to reach new audiences who otherwise may not attend your event?
Hybrid Best Practices
If you decide to move forward with a hybrid meeting, it will likely be a new experience for you and your members. Following are 14 hybrid meeting best practices (in no particular order) to consider during the planning and implementation of your program to help ensure the best possible experience for you and your attendees:
Understand the tech needs, specs, graphics, timelines for your selected platform.
Anticipate tech gaps for learners and plan for/train them accordingly.
Overcommunicate prior to and during the event via all available channels.
Understand what you can deliver to sponsors/exhibitors, be creative and collaborate with them.
Consider shorter content segments when building your overall agenda.
Adhere to the agenda timing and mind time zone differences.
Mix up live and recorded content, where possible and appropriate.
Plan for participant engagement, interaction, networking and community.
Consider ways for the remote audience to engage directly with the in-person audience.
Engage strong facilitators to lead the online/in-person experiences and to bridge the two groups.
Plan rehearsals for speakers, exhibitors and moderators in the virtual platform.
Surprise and delight your attendees with unadvertised pop-up experiences.
Give people time to break, breathe and stretch (both short and long opportunities).
Leverage event analytics to make "real-time" changes and adjustments.
Safe Meetings
The first time your members meet again in-person, it will be a different experience governed by a myriad of new procedures and expectations designed to keep everyone safe. It can certainly be a lot to navigate as a planner. Luckily, the Michigan Society of Association Executives (MSAE) convened a coalition of more than 70 volunteers from 60 organizations comprising health, tourism, meetings and trade association representatives to develop Safe Meetings Guidance & Resources for groups of 10 to 10,000 to meet safely again in-person.
Key considerations for in-person events in a post-pandemic environment outlined in this resource include:
Pre-event guidance.
Education and expo guidance.
Meals and networking guidance.
Data collection guidance.
Offsite and outdoor event guidance.
Conclusion
As our members and learners who are most at-risk of contracting COVID-19 are likely to participate in our meetings and events remotely for the foreseeable future, and as many others choose not to attend in-person until new cases consistently decline and/or a vaccine is developed, we may need to explore hybrid options.
It's our sincere hope that these questions, recommendations and resources will provide a starting place for you and your team to evaluate whether or not hybrid meetings are right for you. And should you elect to move forward, an idea of key pitfalls to avoid and best practices to emulate. If any questions arise during your planning process, please don't hesitate to contact us for additional guidance.