Happy Anniversary Event Garde!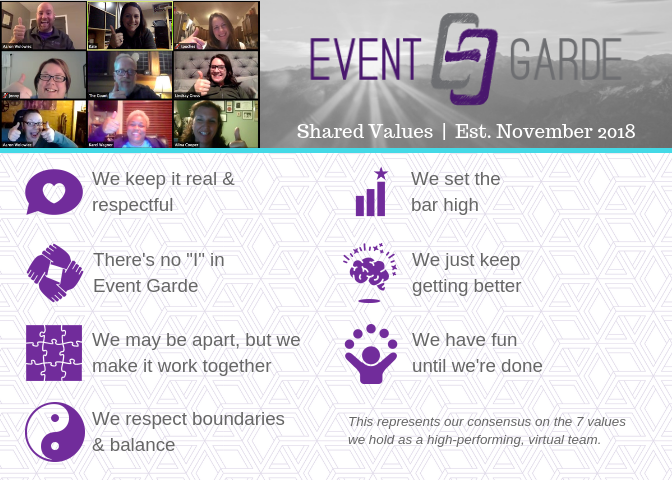 It's hard to believe.
I remember seven years ago, talking to Aaron about an idea to start his own company. It would be small but mighty, with just a few of us at the helm.
I would handle communications and digital content, Cally (who's no longer with Event Garde) would handle administrative functions and Aaron would be the jack of all trades.
We slowly built our team, but sooner than perhaps anyone expected, we grew – quickly.
Fast forward seven years and here we are.
On Dec. 8, Event Garde celebrated our seventh anniversary.
Looking back, I couldn't be prouder of what we've accomplished.
We're now a team of 15, providing expertise on technology, instructional design, health and wellness, facilitation, technology and credentialing.
And, super exciting: This year, Aaron was inducted as the Best Meeting Professional into the Michigan Meetings and Events Hall of Fame.
In addition to Aaron, all of us have grown personally and professionally through the eight years (and even since jumping on board, for our new employees.) There are too many accomplishments to name here, but look for some highlights throughout 2019. Some examples: receiving certifications and awards, improving health and wellness and attending top-notch conferences.
Giving
Giving back has been, and will always be, a priority for our team. In 2016-17, we gave more than $1,000 to Kalamazoo Strong and Children's Miracle Network – organizations that mean something to our team personally.
This year, for Giving Tuesday, we gave more than $2,000 to American Cancer Society, ASAE Foundation and the Human Rights Campaign.
And this doesn't take into account the organizations for which we volunteer our time and resources.
Resources

Event Garde started an Innovation Fund for the development of new resources, and team members will be contributing ideas.
Some new resources include the Meetings, Education and Professional Development Survey Report, an e-book on engaging learners and facilitation cards created by Aaron and Lindsay Gross, director of facilitation services.
In addition, Aaron and Kate Pojecta, director of meetings and technology, are working on ReviewMySpeaker.com, with an anticipated launch next month.
Next on the agenda, Aaron's Tradeshow (R)evolution Book will soon be released.
Accomplishments
Recently, Event Garde was recognized as a LTD 2019 patron in a recent Leading Learning Podcast episode.
Event Garde is a Learning, Technology and Design patron, meaning we are an active supporter of learning businesses.
In addition, this year, Event Garde launched Healthy By Association, a community dedicated to health and wellness. We also launched a Vimeo channelso people can stay abreast of topics and trends.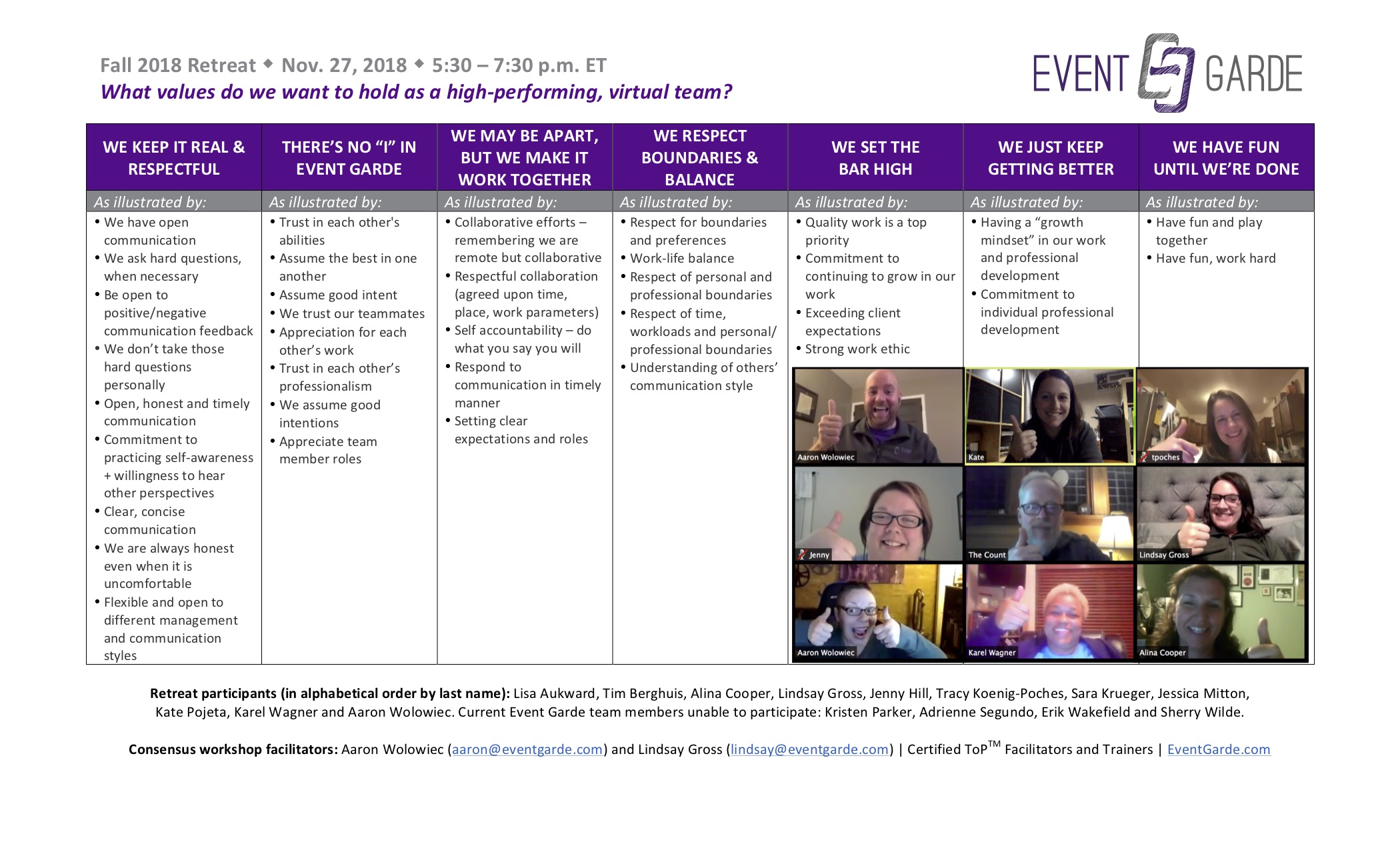 Our team
Since we are a remote team, bonding can be a challenge. That's why communication is key. Each quarter, Event Garde holds a virtual retreat. At our last retreat, we developed values that define how we work as a high-performing, virtual team.
Those "buckets" include keeping it real and respectful; working together; resecting boundaries and balance; setting the bar high; continuous improvement; and having fun.
For example:
Respect – open communication, honesty, flexibility
Working together – trust and appreciation
Boundaries – work-life balancing and understanding workstyles
High bar – quality work and exceed expectations
Continuous improvement – growth mindset and PD
Having fun – play and work hard
To share in our excitement, check out these fun videos:
Denise McGinn, Founder and CEO of Association Guidance: https://vimeo.com/304138378
Beth Wickline, Graduate Management Admission Council's Director of Professional Education & Training: https://vimeo.com/304141417
Jeanette Stawski, Executive Director of the Association of Outdoor Recreation and Education: https://vimeo.com/304147320