12 Days of Recipes: No Bake Chocolate Pudding Cream Pie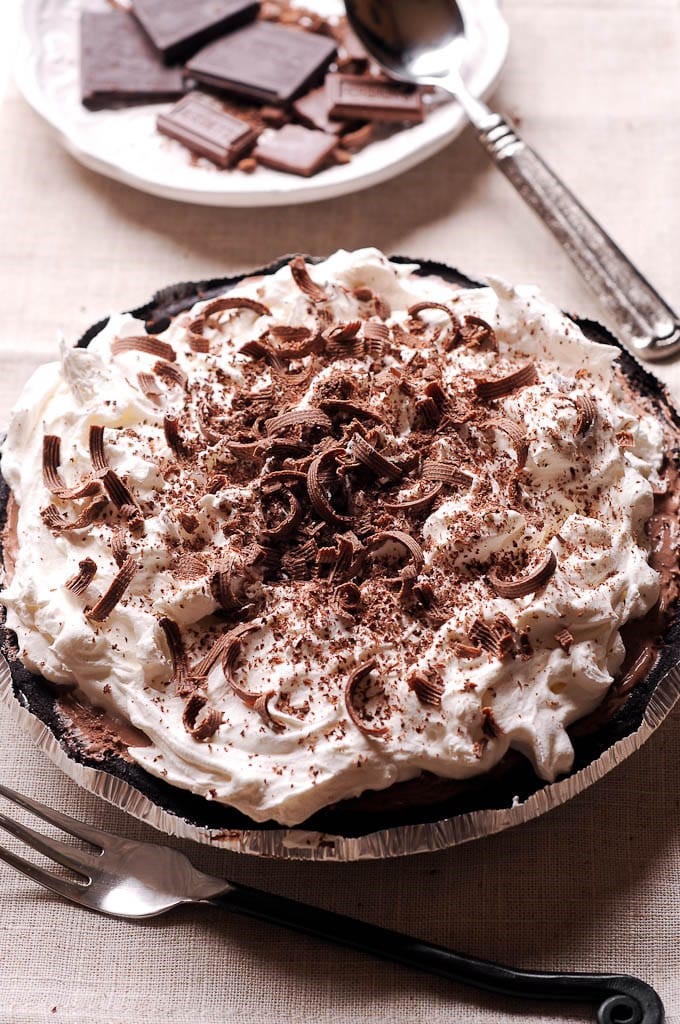 Ingredients
1 Oreo pie crust
2 boxes instant chocolate pudding, 3.4 oz each (such as Jell-O)
2 cups half and half, (or half cream/half milk)
8 oz. Cool Whip, (1 package) thawed
1 milk chocolate bar, (such as Hershey's)
dark chocolate, (for garnish)
Instructions: Take pie crust out of package and keep it inside the foil. Do not turn it upside down or attempt to take it out - it will get crumbled and destroyed
Prepare Chocolate Pudding: Combine dry pudding mixes and half & half in a mixing bowl. Using a whisk, mix for 2 minutes, until the instant pudding mix is dissolved. Allow the pudding to sit in the fridge or freezer for 5 more minutes so that it thickens.
First Layer: Take about half of the chocolate pudding mixture and add it into the bottom of the pie crust. Using a spatula, spread it evenly.
Second Layer: Add ½ of the Cool Whip package to the remaining half of the chocolate pudding in the bowl and mix together with a spatula to form a uniform mixture. Add this chocolate pudding/Cool Whip mixture on top of the first layer. Use a spatula to even it out.
Cool Whip Layer: Add remaining Cool Whip on top. Spread the Cool Whip on top of the second layer with a spatula. I used circular motions with my spatula to create the spikes. Using a vegetable peeler, shave decorative chocolate shavings out of Hershey's milk chocolate right over the Cool Whip. And then using same peeler, grate some dark chocolate over the top as well.
Refrigerate before slicing: Refrigerate the cake for at least 4 hours or preferably overnight before attempting to slice it! You can also freeze it for at least 1 hour. This step is necessary for the layers to set and become firm.
Recipe and photo from What's in the Pan?