A Virtual Conference Without a Virtual Platform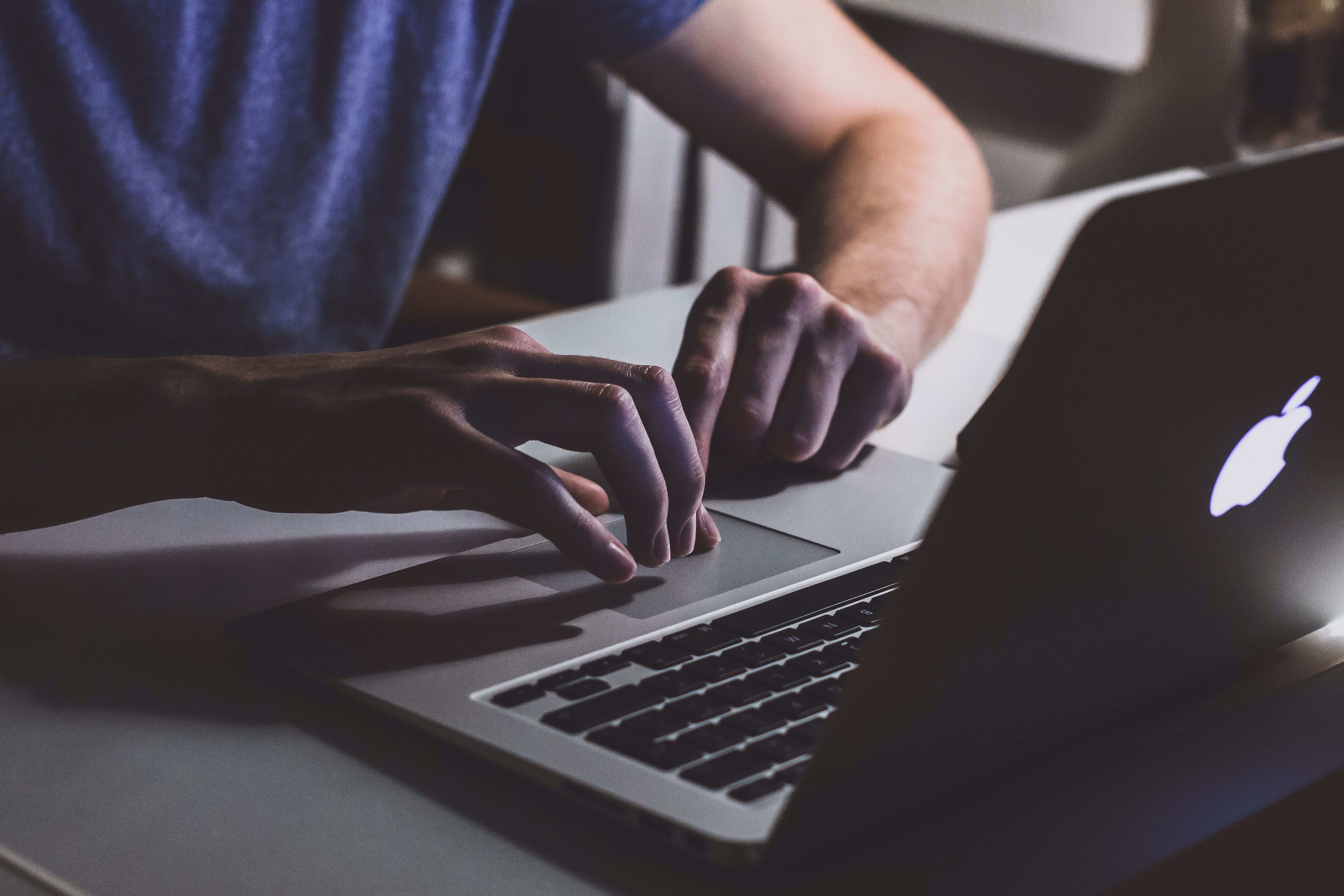 As 2020 was wrapping up, and association executives had seen their fair share of virtual event platforms, the Michigan Society of Association Executives wanted to go back to basics for their January operations conference. They recognized that many of their association members were struggling to balance the expense of virtual event platforms with the income from virtual event registrations.
MSAE consulted with Event Garde as to how they could deliver a two-day conference only using Zoom.
Only using Zoom? Our first idea storm was that this could be done using one meeting link plus breakout rooms for each session. This came with other caveats to consider - how to record the breakout rooms effectively, how to gather poll data efficiently, and how to make the main room feel more like a webinar during the opening sessions and keynotes each day. So while yes, this could be done, it would not be an ideal experience for an attendee. Using multiple Zoom links meant a robust email that outlined the various sessions for attendees to click on. That felt clunky.
We recommended using a landing page on their existing website to help with attendee and presenter navigation, as well as give the event a "home base". A landing page is something that can be created on just about any website platform, but if a client's website is unable to handle a custom page, they could consider a MailChimp landing page, or a quick page on Weebly or Wix, or using GoDaddy's webpage builder. On MSAE's site, the page would be unlisted and we would send that link to attendees the morning of the first day and again on day two.
Ideally, this page would be accessible only beyond some sort of login access point, but MSAE was switching to their new website platform only days before the conference. Logins had to be reset and this would potentially become a massive barrier for attendees. To circumvent the login obstacle, we left the page hidden, but in essence, publicly accessible if someone had the direct link. Because MSAE used an organization registration in addition to individual options, sharing of the link was not seen as a major concern. Read more about their registration options in their blog post, An Association Laboratory.
Given that Zoom seemed to become a staple in the lives of association professionals, we were not overly concerned with most attendees and presenters needing much support the days of the event. But ignoring the option to get support would be an oversight for sure. One of the tools our team bakes into most virtual events is a live support option. While an email and phone number are helpful to provide, they are not as quick and easy as the little "chat now" buttons we have come to use on many websites. For most events we've managed, we have used PureChat, which offers a FREE 30-day trial and is perfect for virtual events since most take place in less than a span of 30 days!
From a delivery side, our tech stack included the client's website, Zoom and PureChat. Behind the scenes, on the event management side, MSAE and Event Garde used additional planning tools such as Dropbox for file sharing, Dropbox Paper for collaborating on weekly meeting notes and tasks, Microsoft Excel to manage speakers, schedule and run of show information, PowerPoint for slide deck templates, Canva to create the graphics for the landing page, iMovie for editing recordings and YouTube for storing those recordings.
The landing page was designed in a way to flow like an agenda - top to bottom, the schedule ran from the start of day 1 through end of day 2.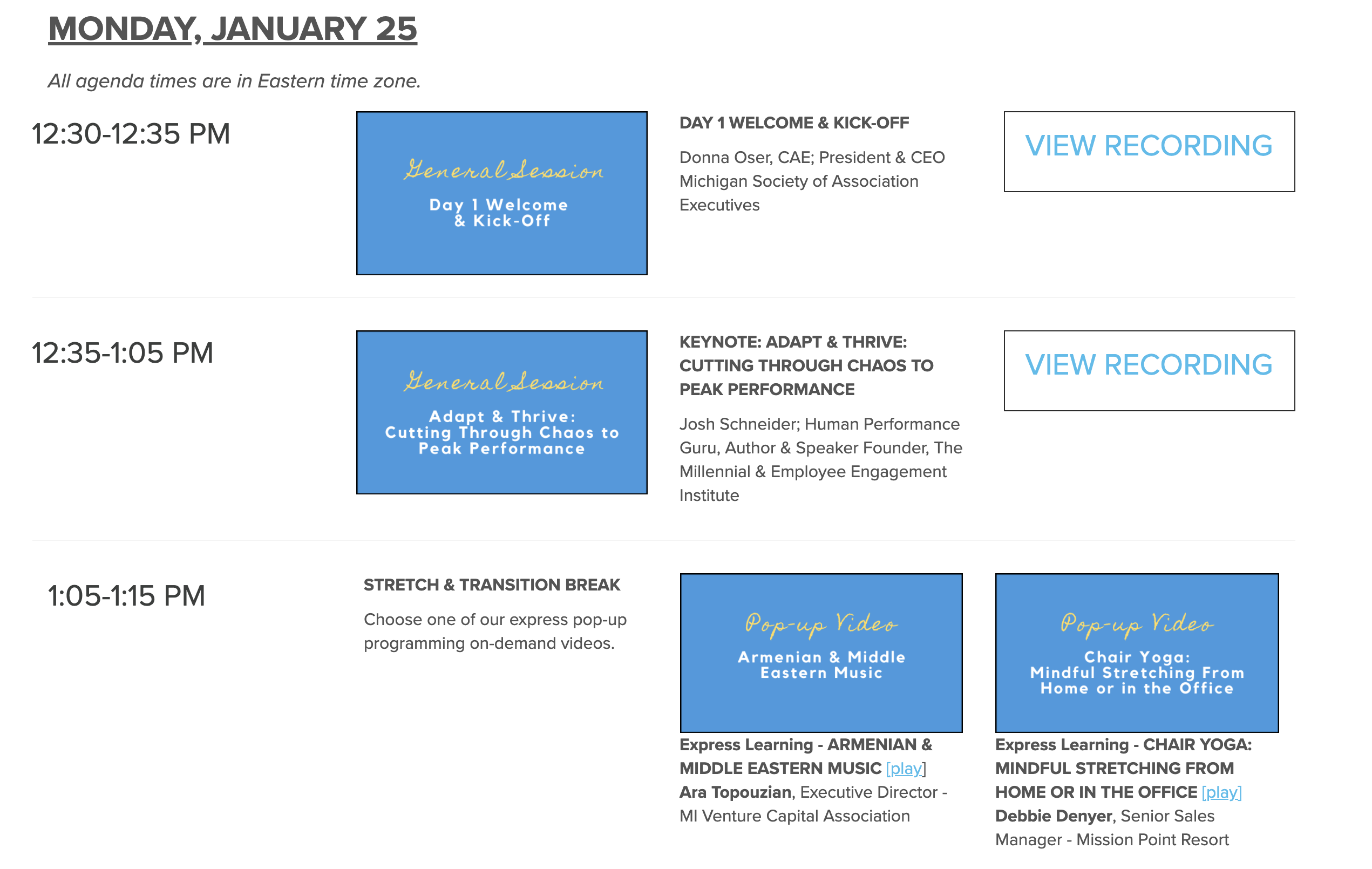 Each time slot was a new section below the previous, and concurrent sessions were aligned with each other so attendees could quickly choose from one of the available options.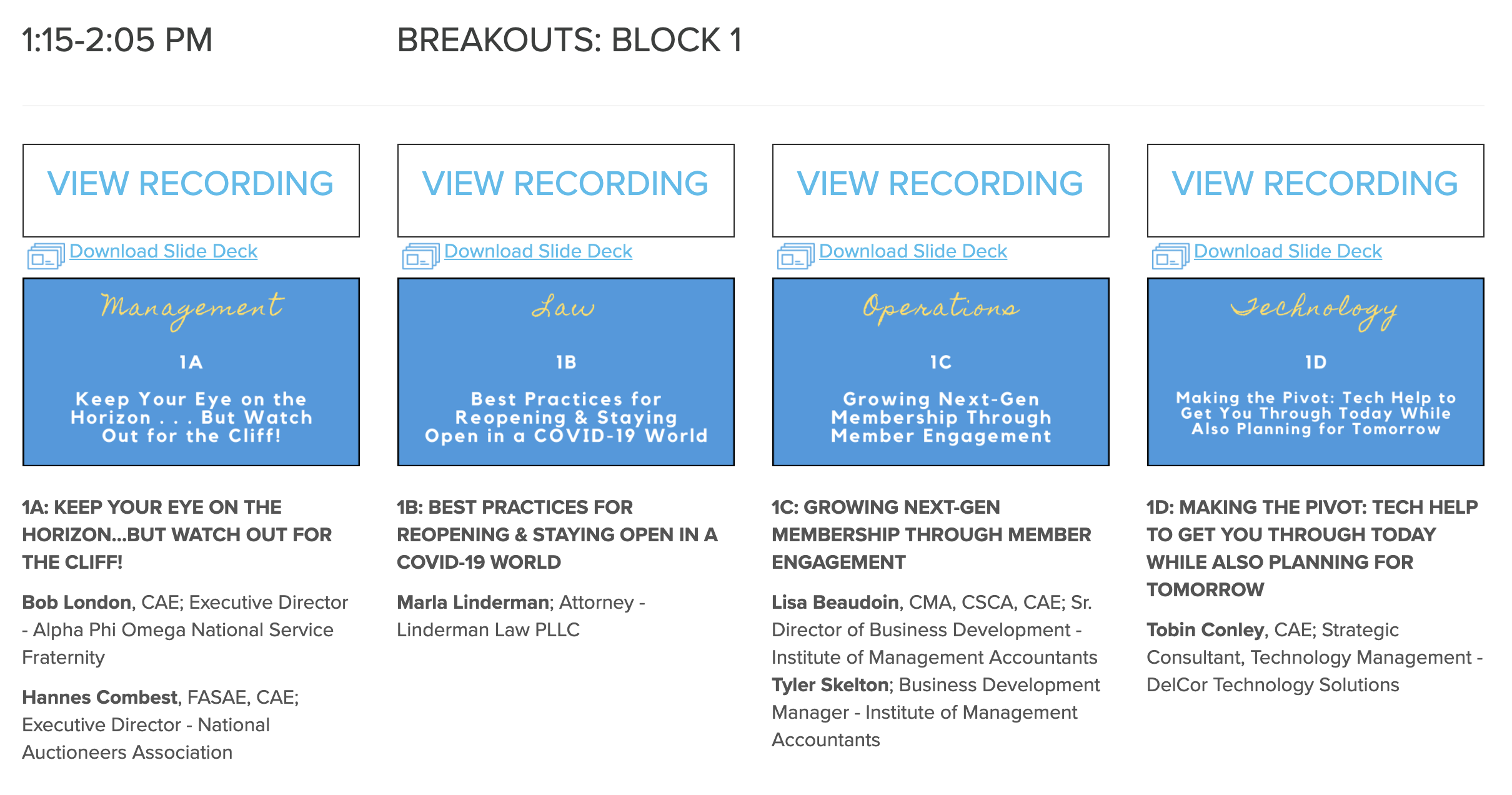 We made our single sessions stand out a bit more and EVERY session had a "JOIN SESSION" link and button connected to its respective Zoom meeting. A simple click from attendees took them directly to where they needed to go. Strategically placed throughout the page were red "Help/Live Chat" buttons that popped open a new window for users to connect with the MSAE team immediately (via PureChat). An attendee never scrolled very far without seeing one of these buttons! On some sites, PureChat is able to be embedded in a way where it can float in a corner of the page at all times; this setup is more ideal than the page link method we used, but given the limitations of the MSAE site, this second option worked perfectly.
On the Zoom side of things, we ensured all accounts being used had the same settings for meetings, recordings and waiting rooms so that the experience was consistent across the four licensed accounts being used. As sessions completed and recordings were trimmed and loaded online, the "Join Session" button was changed to a "View Recording" button that linked to the archive of the session. In addition to some other pre-recorded mini learning experiences, this allowed attendees to access anything they missed at their convenience.
In the remarks of MSAE President & CEO, Donna Oser, "The results were overwhelmingly favorable. Participant feedback during the event and in the post-event evaluation was very positive. The support desk received only two requests for assistance. Several participants reached out to find out how they could replicate it."
And copying or replicating what we did is the utmost form of flattery, so we'll take that compliment with us as move on to the next event...
Related: Case Study
Related Read: MSAE Blog Post - An Association Laboratory