10 Days of Holiday Baking with Event Garde - Day 9: Creamy Ham and Cheese Quiche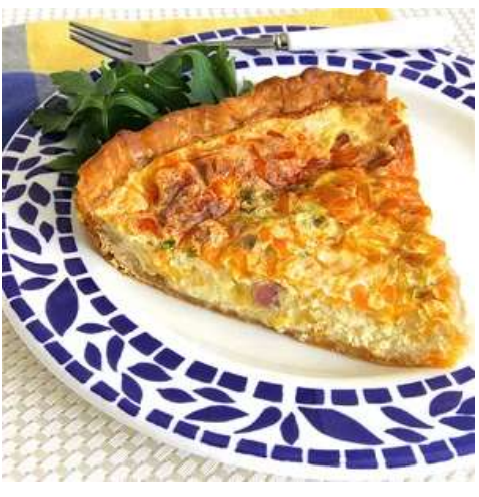 On the ninth day of holiday baking Event Garde team member Tim Berghuis shares with us a simple quiche recipe easy to make and perfect for a holiday brunch.
Ingredients
1 (9-inch) pastry for a 9-inch pie crust
1 cup shredded Cheddar cheese, divided
1/2 cup shredded Swiss cheese
2 tablespoons all-purpose flour, divided
1/2 cup diced cooked ham
2 tablespoons honey mustard
1 ¼ cups half-and-half
5 eggs, beaten
1/4 cup green onions
1/4 teaspoon salt
Directions
Preheat oven to 400 degrees F.
Press pie pastry into the bottom of a 9-inch plate.
Bake pie crust in preheated oven for 5 minutes, use a fork to poke holes into the crust, and continue cooking until lightly browned, about 5 minutes more.
Reduce oven heat to 350 degrees
Mix 1/2 cup Cheddar cheese, Swiss cheese, and 1 tablespoon flour in a bowl; spread over the warm pie crust.
Stir ham and honey mustard together in a bowl to coat the ham completely; spoon over the cheese mixture.
Mix half-and-half, eggs, green onions, 1 tablespoon flour, and salt together in a bowl. Pour mixture carefully over the ham layer; top with remaining Cheddar cheese.
Bake in preheated oven until set in the center, 40-50 minutes. Cool for 10 minutes before cutting.
Recipe from www.allrecipes.com