10 Days of Holiday Baking with Event Garde - Day 8: Chocolate Gingerbread Wreath Cookies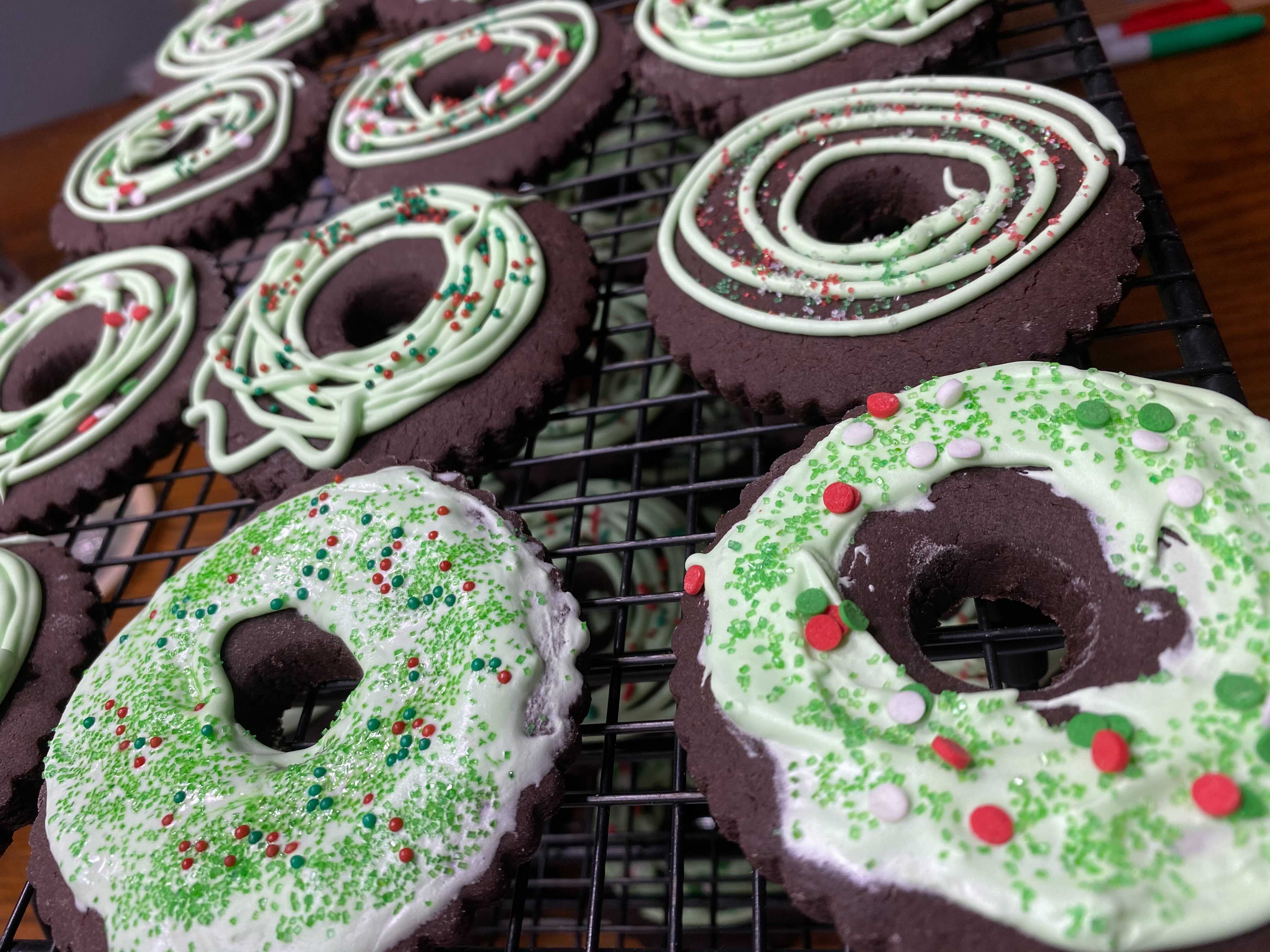 On the eighth day of holiday baking Event Garde team member Kate Pojeta shares with us a cookie favorite that bring decorating fun for the family!
Ingredients
2 ½ cups all-purpose flour, plus more for work surface
2/3 cup dark cocoa (such as Hershey's Special Dark)
1 ½ teaspoons ground ginger
1/2 teaspoon ground cinnamon
1/8 teaspoon ground cloves
1/2 teaspoon baking soda
1/2 teaspoon baking powder
1/2 teaspoon kosher salt
1/2 cup unsalted butter, softened
3/4 cup granulated sugar
1 large egg, at room temperature
3/4 teaspoon vanilla extract
1/3 cup unsulphured molasses
1 ¼ cups powdered sugar
2 tablespoons meringue powder (such as Wilton)
Green food coloring gel
Pearl candy sprinkles

Directions
Whisk together flour, cocoa, ginger, cinnamon, cloves, baking soda, baking powder, and salt in a small bowl. Beat butter and sugar in a stand mixer fitted with a paddle attachment on medium speed until light and fluffy, about 3 minutes. Add egg and vanilla, and beat until incorporated. Beat in molasses. Reduce speed to low, and gradually add flour mixture, one-third at a time, beating just until blended after each addition.
Turn dough out onto a lightly floured surface, and knead a few times until smooth. Roll dough into a ball, and flatten into a disk. Wrap in plastic wrap, and chill 1 hour.
Preheat oven to 350°F. Line 2 baking sheets with parchment paper. Roll dough to ¼-inch thickness on a lightly floured surface. Cut dough into circles using a 2½- to 3-inch round cookie cutter. Cut middle out of each dough circle using a 1-inch round cookie cutter. Arrange cookies on prepared baking sheets, spacing 2 inches apart. Gather and reroll dough as needed.
Place 1 baking sheet of cookies in refrigerator until ready to bake. Bake remaining baking sheet in preheated oven until cookies are set and lightly browned on bottom, about 12 minutes, rotating baking sheet from front to back halfway through bake time. Let cool on baking sheet on wire rack 5 minutes; transfer cookies to wire rack to cool completely, about 1 hour. Meanwhile, repeat procedure with remaining baking sheet of cookies.
Beat powdered sugar, meringue powder, and 3 tablespoons water with a stand mixer fitted with a whisk attachment on medium-high speed until fluffy and slightly stiff. Add more water, 1 teaspoon at a time, if needed, for desired consistency. Stir in desired amount of food coloring, and spoon into a piping bag fitted with a writing tip.
Decorate 1 cookie at a time. Pipe icing on each in a spiral pattern, and top with desired amount of sprinkles. Repeat with remaining cookies, icing, and sprinkles. Let stand until icing is set, about 6 hours. Store in an airtight container at room temperature.
Recipe from Southern Living