10 Days of Holiday Baking with Event Garde - Day 4: White Holiday Sangria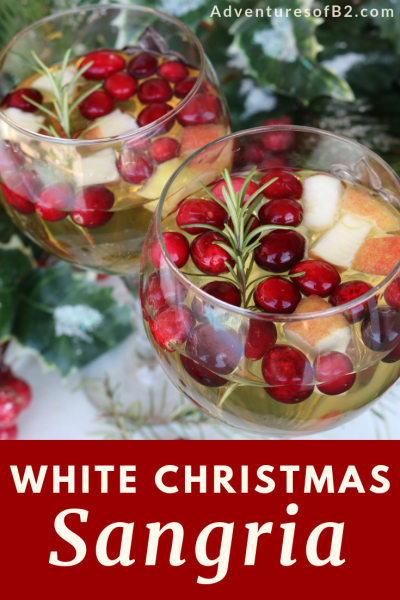 On the fourth day of holiday baking Event Garde team member Kara Nacarato shares with us a fresh white wine sangria. It looks as pretty and has a nice wintery-feel – perfect for toasting the new year!
Recipe and photo from Adventures of B2
A delightfully fresh white wine sangria with brandy and apple cider and fresh fruits. A fantastic holiday cocktail to bring to any Christmas party.
Ingredients
1 bottle white wine
1/4 cup brandy or apple brandy
1/4 cup sugar
1/2 cup apple cider
1 apple apples chopped
2/3 cup cranberries
rosemary sprigs optional garnish
Instructions
In a large pitcher, combine white wine, brandy, apple cider and sugar and stir to help sugar dissolve. Next, add in chopped apples and cranberries.
Refrigerate for at least 4 hours before serving.
Serve chilled with a garnish of rosemary sprigs. Make sure to get some of the fruit in every glass!
Recipe Notes
Rosemary will give the drink a different taste. I recommend trying it without it and then with it to find your desired preference. You don't need a lot of it.