Creating Community Agreements
At Event Garde's most recent annual retreat we created a set of community agreements for our team. Community agreements are guidelines or norms created by a group to establish a mutual understanding. They can be used to ensure that a group's behavior aligns with its values, they may be referred to when conflicts arise, and help set the tone and focus for your time together. As the National Equity Project puts it "Developing community agreements is a powerful strategy for coalescing a group into a team. The process of constructing agreements is often more important than the product. Agreements come from a consensus-driven process to identify what every person in the group needs from each other and commits to each other to feel safe, supported, open and trusting. As such, they provide a common framework for how people aspire to work and be together as they take transformational action."
There are many processes you can use to establish your community agreements. You could:
Begin with a list of suggestions the group can respond to
Ask the group to create their own agreements from scratch
Have the group start by naming the needs and behaviors they want to experience
Craft it out! Have participants create art that symbolizes what the norm should be and talk about what they created
What we came up with:
Since the Event Garde team engages with community agreements quite often, we used a hybrid process of prepopulated agreements and creating them from scratch. We spent a few minutes individually reflecting on "What do you need to be fully present at Event Garde?" We then each shared our needs and decided together if that fit into an existing agreement or if we needed to add/edit a new one.
Here are the agreements we ultimately decided on, including some examples of behaviors that would indicate how we know we've done them: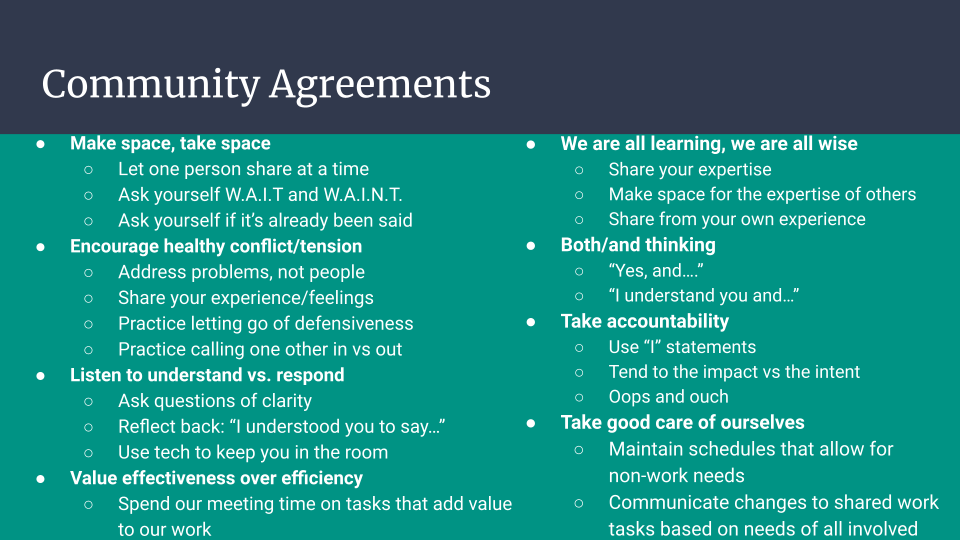 Where should they "live"?
It's important to display your agreements somewhere prominent so that each community/group member can be reminded of what they agreed to and to revisit them regularly. If I'm facilitating a multi-day training, I often check in at the beginning of each session and ask: what's working from our agreements and what isn't working? In our case, we decided to briefly review the agreements at the start of each meeting but, rather than ask what's working or not at each meeting, to select a different agreement each month and have a conversation about what's working regarding an individual agreement. (e.g., Make space, take space – How are we making space? Not making space?)
What process you use and the agreements you come up with will ultimately depend on the audience. But whichever method you choose, co-creating community agreements can be a great way to create richer, and more inclusive engagement.
Some sources we borrow from and build upon for our agreements:
Some process examples:
What community agreements have you used? How did you establish them? We'd love to hear from you!
---
Photo Credit: Pexels.com