Models We Value
The Event Garde team relies on well-researched models to support our internal work and collaboration among fellow team members, as well as our external work, relationships and deliverables with clients and other key stakeholders. Following are just some of the models we've adopted, and which align with our core values.
Event Garde Conflict Resolution Model
Conflict is a healthy part of personal and professional relationships, particularly as people work closely together on multiple projects over time. Conflict often arises as a result of breakdowns in communication, expectations (both spoken and unspoken), and trust. While many might prefer avoiding conflict altogether, it only manages to "pop-up" in unexpected ways at later times. Left unaddressed, it can have a negative and lasting impact on both relationships and outcomes. Event Garde strives to address conflict in productive and transparent ways following these steps:
Step 1: The involved parties (e.g., team member to team member or team member to client) will respectfully name the conflict using facts/observations and request an opportunity to meet/discuss by phone or video, as appropriate.
Step 2: The involved parties will carry out the four-part nonviolent communication process by Marshall B. Rosenberg, PhD as outlined below. This may be done with or without the assistance of a volunteer facilitator (eitherinternal or external to Event Garde, as appropriate).
Step 3: If resolution has not been achieved in a reasonable timeframe (i.e., the timeline established among the parties during the final step of the four-part nonviolent communication process) to the satisfaction of either party, the involved parties may engage the Event Garde President & CEO for further intervention.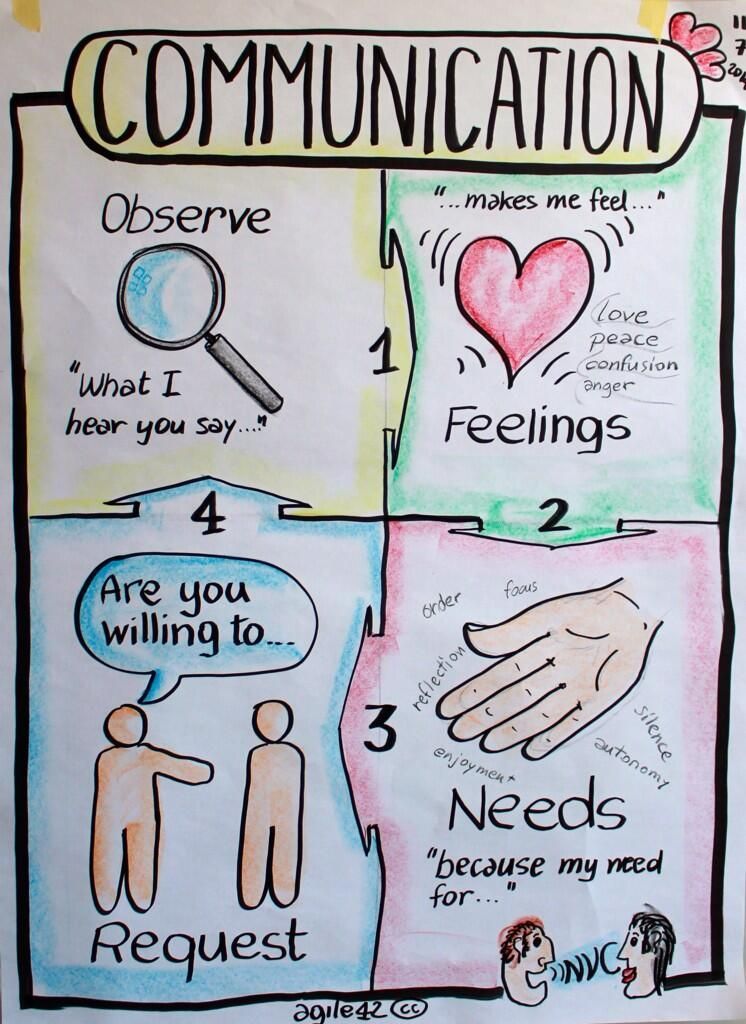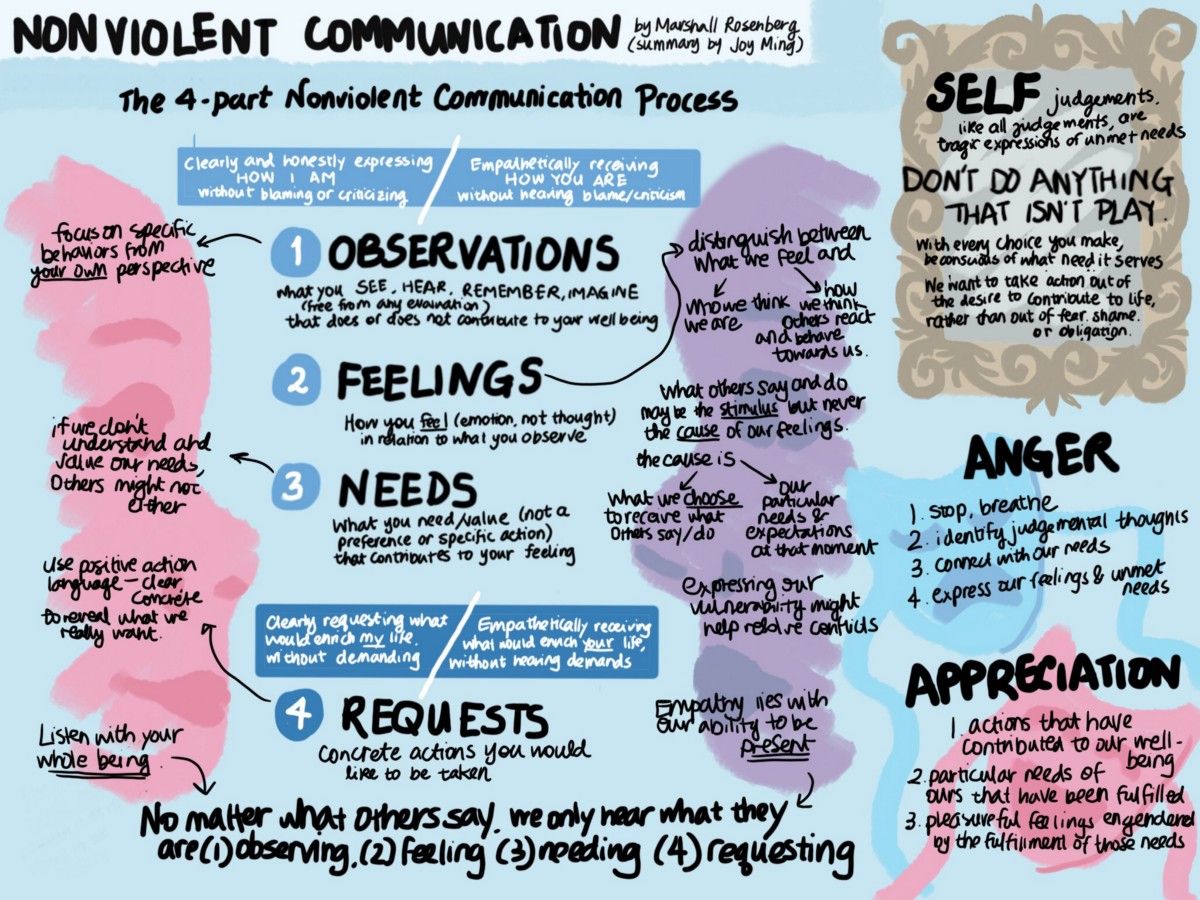 Event Garde Feedback Model
Feedback, which is often used as a basis for improvement, can seem like a frightening endeavor, particularly when it happens only once a year as part of an annual performance review. This is compounded by the fact that seemingly arbitrary written and unwritten rules often guide the process. For example, when "no one is allowed to get the highest rating," but compensation and advancement opportunities are directly tied to review outcomes, it's no wonder that feedback can set the team on edge.
But an annual review process also means that valuable feedback which could be used on an ongoing basis to make micro changes to knowledge, confidence and performance over time is withheld, inhibiting both short- and long-term growth and development. And in the worst-case scenarios, can actually be counterproductive by surprising and demoralizing team members.
The Event Garde team values feedback not once a year, but each and every day. It's a conscious choice to create and sustain a culture of feedback. We see feedback as not something to be feared, but as a gift of another person's time, consideration and genuine interest in our long-term success. To that end, following is an overview of the Feedback Model we employ with our team, partners and clients.
Scenarios
Following are just some of the scenarios in which to consider utilizing this Feedback Model:
Following a client discovery call.
Following the facilitation of a staff meeting.
Following each module of a three-part training series.
Following each day of a multi-day conference we're managing.
Following each module of a four-part strategic planning facilitation.
Following a major client milestone.
At the conclusion of a client engagement.
Questions
Sufficient time should be planned (anywhere from 10 to 60 minutes depending on the number of people involved) as close to the conclusion of the meeting/event as possible. Following are the questions that should be processed one team member at a time:
TO THE TEAM MEMBER: What was one thing you were mindful of as you were (e.g., leading, training, consulting, facilitating, producing, managing)?
TO THE GROUP: What is a gift you observed demonstrated by the team member that you appreciated? [Tell them directly vs. speaking about them in the third person.]
TO THE TEAM MEMBER: What is one thing you will do differently the next time?
TO THE TEAM MEMBER: Are you open to constructive feedback? [If yes, provide observations without judgment, blame or shame.]
Next Steps
Although having the conversation following a meeting/event is a significant element of this Feedback Model, follow through is required to successfully close the feedback loop. To do so, consider taking the following actions:
Record the area(s) where you excelled and would like to replicate more often.
Record the area(s) you'd like to improve upon moving forward.
Prior to your next meeting/event, set at least one intention you'd like to focus on.
During that meeting/event, intentionally bring focus to that area(s). Balancing your other responsibilities while focusing on this intention (and course correcting in the moment, as necessary) may be difficult, but your ability to effectively do so will improve over time.
Following that meeting/event, reflect on your intention to determine your level of success, as well as its impact on you and other key stakeholders.
Begin again and continue the cycle moving forward.
Event Garde Current Events Model
The Event Garde team is aware that current events happening on a local, state, regional, national and international level can have a different impact on our community of team members, contractors, partners, clients and participants on any given day. We've developed a model for processing such events as a way to actively scan for, acknowledge, discuss, educate ourselves and address current events as they occur. Our priority is to support the people who are so vital to our work as consultants without adding an unnecessary amount of emotional labor on those directly affected. This model is evolving and we will continue to adjust it as we become aware of opportunities to improve our approach. In the meantime, it signifies a commitment by the Event Garde team to not sit idly by as acts of discrimination, oppression and violence affect people based on such social identities as race, color, sex, gender, class, formal education, religion, physical appearance, age, sexual orientation or ability.
Following is the four-step process Event Garde employs to process current events:
As individual Event Garde team members become aware of current events that may impact our community, they should share the information in the #currentevents Slack channel.
Event Garde will make available to those team members who are interested and available an informal town hall discussion to explore the identified current event(s). During that conversation, immediate next steps will be identified, including but not limited to a need for support, additional information or education.
Utilizing a focused conversation, Event Garde will then determine what, if any, outreach is needed to partners, clients and participants of upcoming trainings, facilitations or other contracted engagements.
Finally, Event Garde will determine what, if any, public statement should be drafted and released (e.g., light touch vs. heavier touch), the appropriate outlet (e.g., social media vs. email campaign) and any further commitment to action (e.g., volunteer opportunities or monetary donations).