FacilitateMI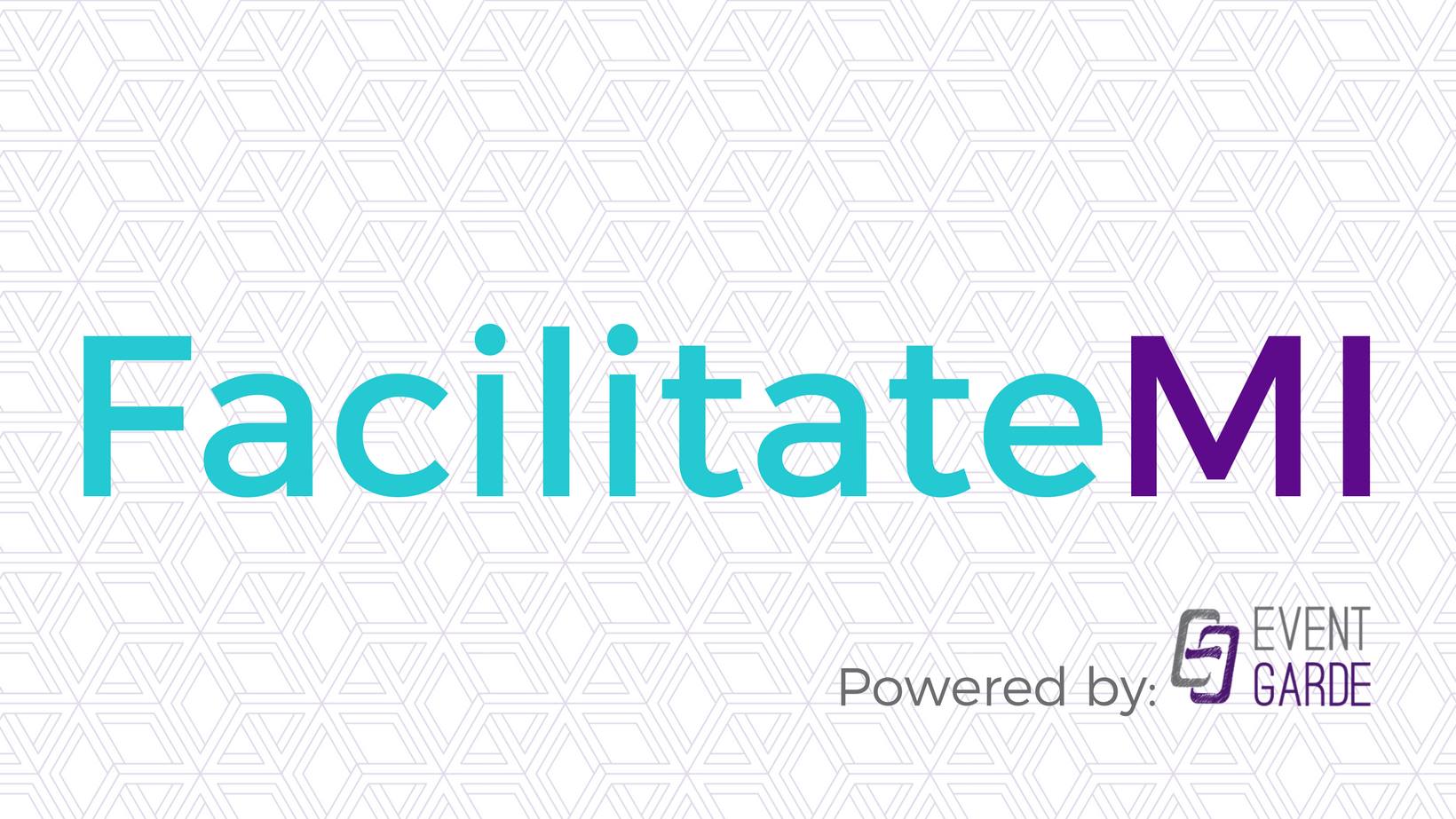 The mission of FacilitateMI (pronounced FACILITATE ME) is to create a relaxed and supportive community of practice ideal for learning and networking with fellow facilitators. Through bimonthly meetings and a vibrant online community, participants of all experience levels will feel empowered with new resources and greater self-confidence.
Originally imagined for Michigan facilitators, the group now welcomes participants from all geographic locations. Those who are interested may join our free Facebook community to connect with other facilitators and to engage in discussions on topics, tips and resources to grow the knowledge, skills and abilities that support your facilitation practice.
Additionally, FacilitateMI will host six total events in 2019. Meetings are held every other month with a mix of in-person and digital opportunities. Thanks to the generous support of MSAE, in-person meetings are held in the society's conference room. Regardless of format, each session offers an opportunity to:
Network: Every session begins with an opportunity to meet new people and to deepen your relationships with fellow facilitators. Likewise, you'll walk away with a new networking technique to employ with groups.
Learn: Each meeting features a new topic led by one of our group participants. You get the opportunity to research and prepare a presentation on a topic of interest related to facilitation; you get to practice facilitating in a safe environment; and you get the benefit of rich dialogue from peers.
Transfer: We ask participants to bring with them each time any facilitation challenges (past, present or future) they'd like to discuss as a group. No challenge is too big or small. We leverage the collective wisdom and experience of the group to brainstorm possible solutions / recommendations.
2019 Schedule
June 12, 2019
9 - 10:30 a.m. ET
Digital discussion via Zoom
Topic: Demystifying the National Charrette Institute
Description: Harmony will provide an overview of the National Charrette Institute (NCI) Charrette System approach, a tool newly associated with MSU and MSU Extension. This tool is most used to break down barriers in complicated and heated community settings. This method uses collaborative design-thinking to activate the creative potential of all stakeholders by embedding them in the design process to co-create a transformative plan or policy. This unique public engagement approach is highly adaptable to many public situations involving large diverse groups and is suitable for all ages.
Facilitator: Harmony Gmazel, AICP, is a Government and Community Vitality Educator for MSU Extension. Based in Ann Arbor, she offers almost 20 years of experience within a wide range of community planning such as intergovernmental cooperation, placemaking, downtown development, renewable energy, green infrastructure and much more. She serves as Chair of the Michigan Association of Planning's Social Equity Committee and is a Trainer/Facilitator for the National Charrette Institute. Ms. Gmazel is a member of the American Institute of Certified Planners, and holds an M.S. degree in Urban and Regional Planning from Michigan State University.
Register here.

Aug. 14, 2019
9 - 10:30 a.m. ET
In-person meeting at MSAE
Topic: Diversity & Inclusion Monitoring Tool
Description: Krista Rowe and Aaron Wolowiec set out to crate a diversity and inclusion monitoring tool that would allow facilitators to: set goals to improve likelihood and quality of participation; tally the manner and frequency of participation among various social identities and marginalized groups; identify the successes and opportunities for improvement; and inform future design and implementation. During this session, they'll unveil the current draft of their work, explore uses within your work with groups and solicit feedback for further refinement.
Facilitator: Our facilitator will be Krista Rowe. Krista is a Health Equity Consultant for the Center for Health Equity Practice (CHEP) at Michigan Public Health Institute (MPHI). She is experienced in developing, implementing and facilitating dialogue with community based organizations and public health professionals. Her area of focus is the application of Health Equity and Social Justice. She co-facilitates workshops, provides technical assistance and consultation on this content area. Krista holds her degree in Community Advocacy and Governance from Michigan State University (MSU). She is a certified Technology of Participation (ToP) facilitator through the Institute for Cultural affairs (ICA) in Chicago.
Register here.

Oct. 9, 2019
9 - 10:30 a.m. ET
Digital discussion via Zoom
Topic: Engaging with Community Members
Description: Facilitating trainings and workshops with "boots on the ground" workers and other frontline staff presents an unique opportunity compared to the professional boards and association professionals you are accustomed to working with. Whether it be the continual interaction over many years I will have with these individuals or the incredibly strong ties they have to this work, these circumstances present unique opportunities and challenges when we come together in the classroom.
Facilitator: Ken Borkowski has been working with the HIV Care and Prevention Section with the Michigan Department of Health and Human Services for over 5 years. He has worked on both the care and prevention sides of the program which has provided him an unique insight into the complete continuum of HIV testing through treatment and care. Ken has been facilitating workshops and trainings since graduate school on topics ranging from sex & sexuality to test counseling and HIV case management.
Register here.

Dec. 11, 2019
9 - 10:30 a.m. ET
In-person meeting at MSAE
Topic: ACTion CARDS (Action Created Together)
Descripton: Imagine this: Yet another meeting or conference call is convened to discuss the same topics that have been on the table for months with no decisions and no actionable next steps. This time can be different. About a year ago, Lindsay and Aaron developed a colorful deck of ACTion CARDS. Following the simple instructions, and leveraging the focused conversation approach, lead just about any discussion using the pre-populated questions. What results is: recognition of and participation by all group members; increased diversity of thought; a safe space for all to share their unique perspectives; engagement of untapped team expertise; and fruitful conversation, as well as identification of actionable next steps.
Facilitator: Lindsay Gross is an experienced meeting facilitator with over a decade of experience working with multidisciplinary groups, assisting them with goal setting/action planning, and creating an engaging environment that allows for consensus building. She has worked with professionals from both the public and private sector to help them work towards gaining common vision and achieve their goals. Lindsay is known for working with challenging groups to conduct needs assessments, system's analysis and work together to co-create actionable recommendations for improvement. Lindsay is also an experienced public speaker and trainer, presenting at national conferences on a variety of topics related to overall system change and how to engage with communities.
Register here.