Mission possible: Finding and keeping volunteers
It's the first board meeting of the year and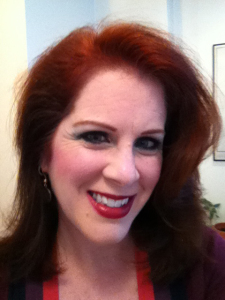 the room is packed with enthusiastic volunteer board members. And later that month, committee members flock to your building to discuss the assignments for the year. But slowly, throughout the year, people stop coming. Projects hit roadblocks. And by the end of the year, you find it harder and harder to recruit – and keep – volunteers. Sound familiar? It may be that your volunteers are bored, says Elizabeth Engel, CEO and chief strategist for Spark Consulting, LLC. Unfortunately, many organizations are stuck when it comes to volunteers, she said. Like zombies, committee members engage in busy work instead of generating new ideas to further the mission of the organization. Part of the problem is traditional committee structure doesn't allow for quick decision making, Engel said, and that doesn't work when GenXers and millennials are accustomed to 24-7 information and networking. We get impatient. Thanks to Twitter and Facebook, these generations – which in 2011 surpassed Baby Boomers for volunteerism – value virtual networks and don't often communicate face to face. But because of traditional volunteer models, defined by committees, boards of directors, meetings and high levels of commitment, these young professionals may be hesitant to jump in. So that's why associations must embrace mission-driving volunteering, Engel said. She and Peggy Hoffman, president of Mariner Management and Marketing, LLC, recently co-authored a whitepaper, "The Mission Driven Volunteer." "Volunteers' work has to have meaning and impact, where they can clearly see it advancing the mission of the association," Engel said. "That's the cake. Recognition, rewards, honors and all that jazz are nice, but they're the icing. Get the cake right first." For example, there should be volunteer opportunities other than joining committees or boards of directors. "The most innovative volunteer opportunities I've seen recently are related to tasks like crowdsourcing," Hoffman said. "The most innovative association staff positions are volunteer services director, director of member engagement and volunteer coordinator – all of which allow someone to focus on this area." When volunteers feel empowered to contribute to the good of the organization, using their own skills and passions, they're more willing to give their time, the authors wrote. According to Engel and Hoffman, here are some hallmarks of a mission-driven volunteer program:
Projects are evaluated based on how they contribute to the organization's mission.
Structure is built around project-oriented teams rather than the budget cycle.
Volunteers are selected based on competencies and skills rather than for position title, tenure or political reasons.
The litmus test for maintaining standing committees is breadth of oversight (i.e. fiscal oversight, leadership development/nominations) or legal requirements (i.e. state or federal laws requiring an executive committee).
It embraces and enables micro-volunteering.
It democratizes volunteering, allowing more people to participate and for those volunteers to create their own opportunities. Peggy Hoffman, president of Mariner Management and Marketing, LLC[/caption]
To sum it up, while younger generations are willing and enthusiastic volunteers, they seek different kinds of volunteer experiences, ones that are less about structure, position and prestige, they wrote. They want experiences that are focused instead on independence, meaning, impact and "getting it done," none of which are easily accommodated by the traditional committee model. "People like variety, so the question to ask [if you're struggling to keep volunteers] is whether people were driven out of your organization because of a lack of variety," Hoffman said. "And a good percentage of volunteers stop because life changes their availability – a new job, a new responsibility at work, a new baby. So the question to me is, how do we address this by crafting volunteer programs that recognize this?" One solution: micro-volunteering. Think about it as bites of volunteer work: short-term projects, flexibility, ad-hoc committees and taskforces. Micro-volunteers contribute 49 or fewer hours per year and contribute most frequently in ways related to content (research, conducting literature reviews, analyzing data, preparing background information for regulators and press, reviewing proposals) or teaching and mentoring, Engel said. In the whitepaper, Engel and Hoffman present some questions upon which associations can reflect:
Which of your standing committees have gone "zombie?"
What does your demographic breakdown of volunteers look like? Are you seeing a surge in GenX and millennial volunteers? What are you doing to discover and accommodate their preferences in volunteering?
Among your current volunteer opportunities and groups, which support primarily infrastructure? Which support primarily mission? How could you go about getting more into the mission support category?
What types of decisions in your association would benefit from a deliberative decision-making process? Which would benefit from a more rapid decide-experiment-learn-iterate process? How do you see your committees and taskforces contributing to this?
What current volunteer projects could be turned over to mission-focused taskforces?
What current volunteer projects should be dropped to allow you to refocus volunteer and staff resources on mission-driven projects?
Ad-hoc volunteers give the least amount of time but as a group represent the largest number of volunteers. Can you identify yours? What do you know about them? How different – or similar – are they to your volunteer leaders?
Have you audited your volunteer opportunities to assure a variety of options that target low, medium and high commitment, as well as differing levels of task complexity and expertise required?
What do your volunteers say is working and not working for them?
How visible is volunteering in your association?
What is one action you could take today to start your association on the path to mission-driven volunteering?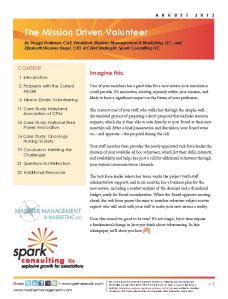 You can download "The Mission Drive Volunteer" from Engel's website. Of special interest: It includes three case studies of associations that recently changed their volunteer programs and are now flourishing. So read it and let us know. Do you need to make some changes? Editor's note: You can follow Hoffman and Engel on Twitter at @peggyhoffman and @ewengel. For more information on this topic, please read Aaron Wolowiec's column in the fall issue of Michigan Meetings.