Be Kind to Yourself: Wellbeing for the Meeting Attendee
According to Gallup, wellbeing is the combination of our love for what we do each day, the quality of our relationships, how secure we feel, the vibrancy of our physical health, and the pride we take in being involved in and contributing to our community. Most important is how these elements interact. Ultimately, research suggests that only 7% of the population is thriving in all of these dimensions. We get fixated on one aspect of our wellbeing, and the others suffer—even in very high-performing people.
At a recent client conference, Event Garde helped design a new general session experience to shine a spotlight on the topics of self-care and wellbeing. Like many of our peers and colleagues, our focus is often on the care, safety, success, and wellbeing of others (e.g., board, volunteers, staff, members, speakers, exhibitors and other key stakeholders) - not to mention our own family and friends. So we intentionally created time and space for meeting attendees to put their own self-care first; to reflect on their personal wellbeing; and to set some intentions for the year ahead.
During this new/interactive general session and breakfast, participants explored the multidimensional nature of wellbeing, including:
Emotional wellbeing: An awareness, acceptance and healthy management of feelings; an optimistic approach to life.
Career wellbeing: Finding enrichment and personal satisfaction in one's life through work and volunteerism.
Physical wellbeing: Encourages a balance of regular activity, sound nutrition, and medical self-care.
Social wellbeing: Nurturing personal relationships and contributing to the common welfare of your community.
Spiritual wellbeing: Seeking meaning and purpose in human existence.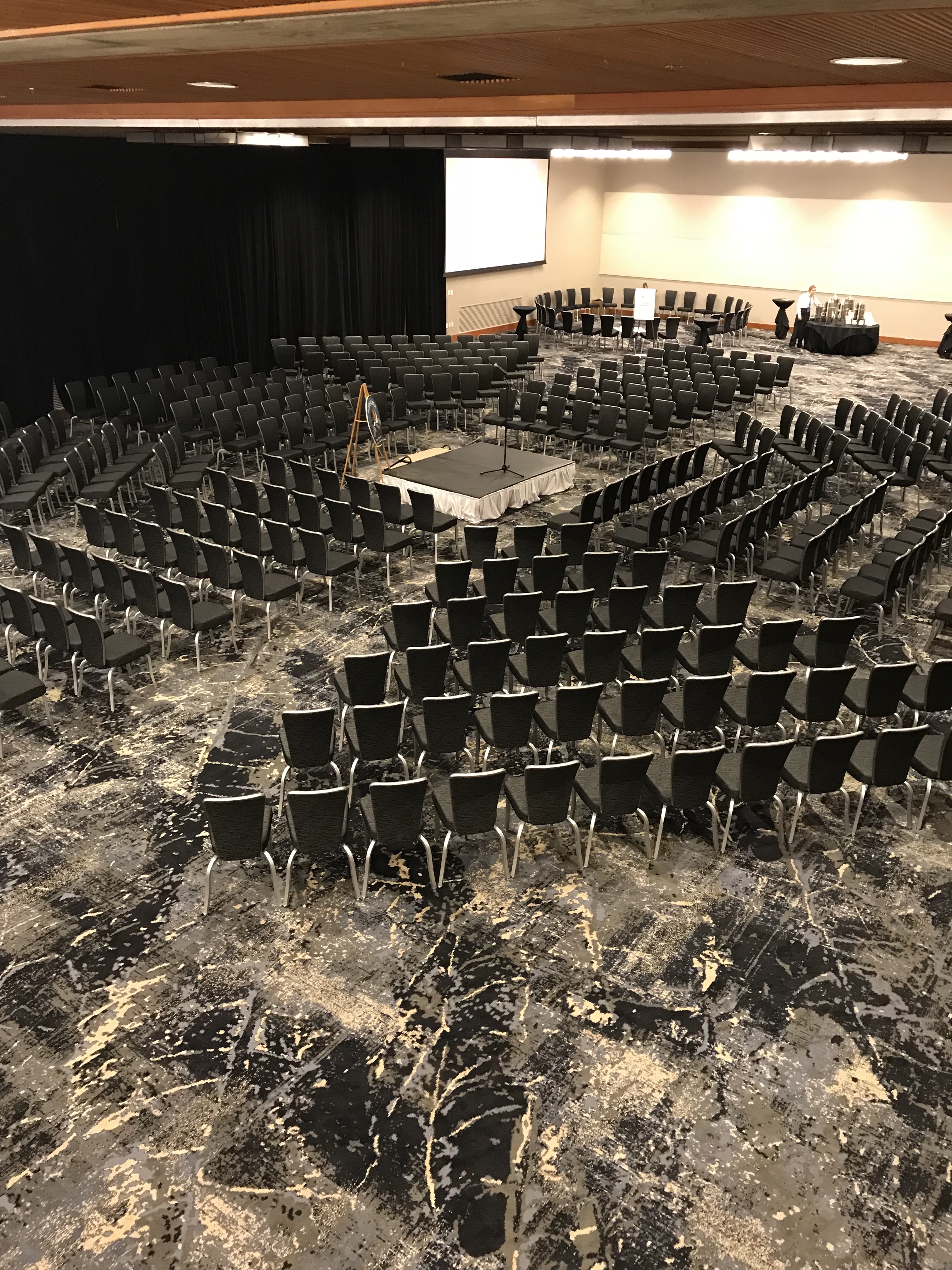 The session included a unique set in the center of the room with breakouts in each of the four corners, as well as a designated quiet space for yoga nidra. The session kicked off with a welcome, brief history of how the session had come to be, an overview of the five wellbeing dimensions and instructions for the various activity stations.
Participants then had a choice. We asked them to pick the wellbing dimension they were most struggling with - as an opportunity for personal exploration and growth in a safe space. The five activity stations broke down as follows:
STATION 1: EMOTIONAL WELLBEING
The emotional dimension emphasizes awareness and acceptance of feelings. It includes the capacity to manage feelings and behaviors including the realistic assessment of one's limitations, development of autonomy, and ability to cope effectively with stress.
At this activity station, meeting attendees explored in small group discussion what it means to:
Form interdependent relationships with others based upon a foundation of mutual commitment, trust, and respect
Arrive at personal choices and decisions based upon the synthesis of feelings, thoughts, philosophies, and behavior
Live and work independently while realizing the importance of seeking and appreciating the support and assistance of others
Activities included: nature as medicine. Meeting attendees were encouraged to explore the healing power of nature through study, gratitude and connection. This station included some writing and outside exploration.
STATION 2: CAREER WELLBEING
The occupational dimension involves the tools by which one gains personal satisfaction, and finds enrichment in one's life through work. Occupational development is related to one's attitude toward work.
At this activity station, meeting attendees explored in small group discussion what it means to:
Choose a career which is consistent with your personal values, interests and beliefs
Contribute your unique gifts, skills and talents to work that is personally meaningful and rewarding
Value the importance of personal gratification and contribution to the well-being of the community at large
Activities included: identifying personal values, targeting the right employers for your job search, asking the right questions during the interview period and communicating your needs to your employer/supervisor.
STATION 3: PHYSICAL WELLBEING
The physical dimension encourages regular activity, including cardiovascular fitness, flexibility, and strength. Physical wellbeing includes knowledge about food and proper nutrition while discouraging the use of tobacco, drugs and excessive alcohol consumption. It includes medical self-care and appropriate use of the medical system.
At this activity station, meeting attendees explored in small group discussion what it means to:
Spend quality time each week building endurance, flexibility, and physical strength
Take responsibility and care for illnesses, and knowing when professional medical attention is needed
Understand and appreciate the relationship between sound nutrition, sleep, and how your body performs
Activities included: body weight exercises with emphasis on breath and movement; reflection on the body's ability to move, not perform; and quieting the mind during stress.
STATION 4: SOCIAL WELLBEING
The social dimension encourages contributing to one's human and physical environment to the common welfare of one's community. It emphasizes the interdependence with others and nature. It includes the pursuit of harmony in one's family.
At this activity station, meeting attendees explored in small group discussion what it means to:
Become more aware of your importance in society, and the impact you have on nature and your community
Take an active part in improving our world by encouraging a healthy living environment, and initiating better communication with those around you
Actively seek ways to preserve the beauty and balance of nature along the pathway
Activities included: exploring ways in which everyone can give back to the community regardless of how big or small their social ecology. Additionally, this group explored how self-care allows people to then take care of those around them.
STATION 5: SPIRITUAL WELLBEING
The spiritual dimension involves seeking meaning and purpose in human existence. It includes the development of an appreciation for the depth and expanse of life and natural forces that exist in the universe.
At this activity station, meeting attendees explored in small group discussion what it means to:
Find peaceful harmony between internal feelings and emotions and the rough, rugged stretches of one's path
Live each day in a way that is consistent with your beliefs and values; be true to yourself
Ponder the meaning of your own life and be tolerant of the beliefs of others
Activities included: yoga nidra, a practice that leads participants into the deepest levels of relaxation in body and mind. This restfulness can be far more effective even than hours of ordinary sleep.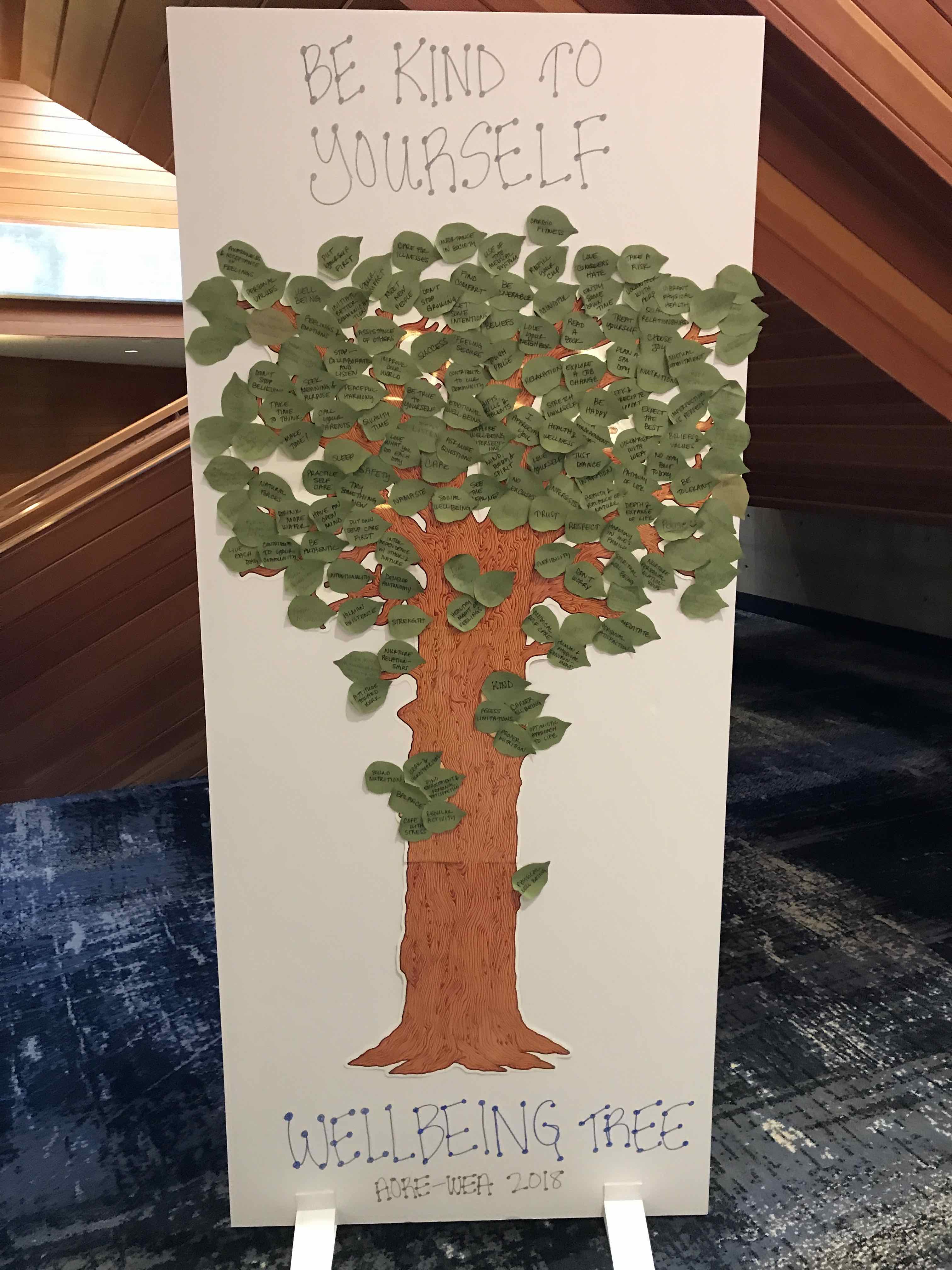 Finally, the session came to a close by bringing everyone back together in the center of the room as a large group. We completed a group reflection with individual insights from participants, we asked everyone to reflect on the session and their discussions, and we concluded by asking each participant to set an intention for the day, week, month or year ahead. Each intention was captured on a cut-out leaf. We then assembled the leaves in a cohesive display that we set out for the evening's awards banquet.
A number of comments and words of appreciation relative to the session were shared with the planners and session faculty. Moreover, a new awareness and appreciation for wellbeing and self-care was raised for meeting attendees - one that hopefully followed them home and sparked a new practice in both their personal and professional lives.